DIY tattoo kits: Experts campaign for tighter laws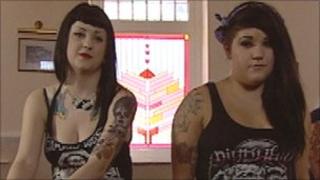 An MP is campaigning for more control on the sale of equipment which can be used by "backstreet" tattooists.
Professionals say amateur tattooists can buy cheap DIY kits on the internet and use them with no knowledge of basic hygiene and health protection.
"People have had septicaemia and died," tattoo artist Lee Clements told BBC Wales' X-Ray programme.
Bridgend MP Madeleine Moon said it was wrong that tattooists could work without training or qualifications.
She told the programme: "You can't take blood in a GP's surgery without undergoing years of training.
"Why on earth are we allowing people to not just stick one needle in somebody's arm and extract blood, but to inflict many needles going into the skin, possibly scarring someone for life - no qualification, no minimum standards of training before you can do it? That's crazy."
The programme highlights the lack of controls on who is able to buy the equipment, which can spread blood-borne viruses like HIV and hepatitis, if it is not properly maintained.
As tattoo' popularity continues to grow, and kits available on the internet for as little as £30, X-Ray shows how easy it is to set up as an amateur tattooist.
Mr Clements, of Chameleon Tattoo in Barry, Vale of Glamorgan, said he was concerned about the quality of the equipment.
"There are parts made of plastic, or materials which are unsuitable or likely to break during a tattoo," said Mr Clements.
"A major concern is the lack of advice given in the kit on applying tattoos and, sterilisation and hygiene during the process."
He added: "There's going to be issues with infection scarring. People have had septicaemia and died - risks people that are picking up this equipment are not even considering."
'Invasive process'
As the programme discovered, it is illegal for unregistered people to charge for tattooing, and backstreet artists risk hefty fines as well as a possible prison sentence.
Environmental health officer Marc Adams Jones said: "Basically with tattooing, it's an invasive process. It breaks the skin, and you have to have people who know what they're doing and they have to be hygienic about it.
"If the health and safety executive were able to prove that tattooing is going on, that there is a work activity, they could use health and safety legislation to prosecute.
"The maximum fine is £20,000 and or imprisonment."
Despite the risks, there are those prepared to go under the needle of an unregistered amateur.
'Clear up mess'
Two young women, Jess and Liz, told the programme why they allowed friends to tattoo them.
"He was learning to tattoo and I wanted to help him out," said Liz. "As long as you know what you're getting into, it's fine."
Jess said: "He didn't ask (for money), I said I'd pay. It was using his equipment and that, I don't mind."
Mr Clements told X-Ray that artists such as he are often left to clear up the mess left by amateur tattooists.
"Not a day goes by without people ask for cover-up or re-work," he said.
"If it's too scarred, it's difficult to fix. The skin's not so elastic. People need to be aware they may never be able to have a decent tattoo in that area."
X-Ray is on BBC One Wales on Monday 13 June at 1930 BST.