Farmers' Union of Wales chief fears less European money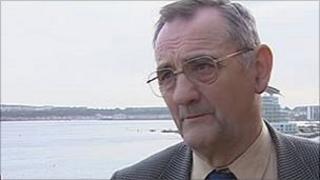 Welsh farmers could be faced with reduced payment from Europe, according to the outgoing president of the Farmers' Union for Wales.
Gareth Vaughan said the re-negotiation of Common Agricultural Policy (CAP) payments beyond 2013 causes great concern.
The union fear there will be a greater emphasis on rewarding environmental objectives rather than food production.
"It is our income," he told the BBC's Politics Show.
"It is a payment made to farmers for producing food and if the payments go, unfortunately the housewife will have to make up that deficit because farmers can't produce for less," said Mr Vaughan, who farms sheep and cattle near Newtown, Powys.
"Our duty as farmers is primarily to produce food hand in hand with looking after the environment.
"The priority must be as to encourage farmers to produce food at all costs."
Success or scandal
CAP is regarded by some as one of the EU's most successful policies, and by others as a huge waste of money.
The current single payment system provides around £280m annually in direct payment to Welsh farmers.
'Contradictions'
Around 80% to 90% of Welsh farmers' income comes from CAP payments and the farming sector is worth 0.5% of GDP to the Welsh economy.
And the new deputy minister for agriculture Alun Davies has warned that the farming sector would not be viable without such payments.
"It's absolutely the case," he said. "What's important is that we use CAP payments to create a profitable industry in Wales.
"We should ensure that the negotiations (about the future of CAP) sustain the industry, help make the industry profitable and enable us to produce food.
"I'm bewildered sometimes about the contradictions created about land management and food production. I don't see any contradiction there."
Mr Davies will be attending a meeting in London on Monday, chaired by the Foreign Secretary William Hague, to discuss the future of European funding.
Under the auspices of the Joint Ministerial Council, ministers from the devolved nations will be pressing the case for European cash. Mr Davies told BBC Wales that it was important that Wales had a strong voice:
"I'll be representing Wales and the emphasis I will be placing meeting is about the European budget and about the importance of European spending for Wales.
"We have structural funds in west Wales and the Valleys and we have this Common Agricultural Policy funding for agriculture industry and rural Wales."