Bluetongue restriction end welcomed in Wales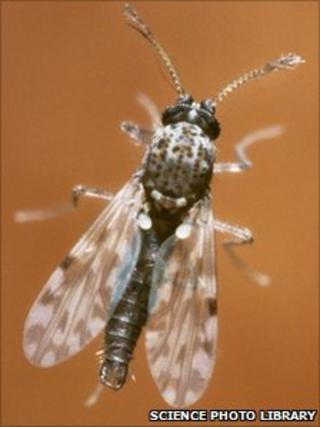 An end to restrictions on the export of sheep and cattle following a bluetongue outbreak four years ago has been welcomed by the Welsh Government.
Environment Minister John Griffiths said the announcement was good for farmers and the Welsh economy.
A protection zone, which enabled farmers to vaccinate livestock, has covered Wales since 2008, and the UK-wide restrictions will end on 5 July.
Bluetongue is a highly infectious viral disease spread by a species of midge.
It can be fatal to animals such as sheep and cows.
The Welsh Government said restrictions on exports have been in place since 2007.
Mr Griffiths said: "This is good news for Wales, good news for our economy and good news for farmers.
"However it is vital that both farmers and veterinarians remain vigilant for signs of this severe and infectious disease".
He said the last confirmed case of bluetongue in the UK was in 2008.
Mr Griffiths said the UK and Welsh governments would continue to press the EU to amend European legislation to allow farmers to use vaccination when bluetongue zones are not in place.
Farmers will be able to vaccinate their livestock until 5 July.