Great Welsh Beer and Cider Festival: Brewers fight back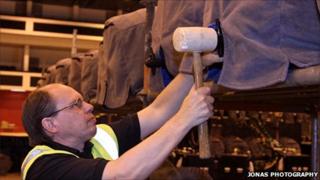 When the chief organiser of this week's Great Welsh Beer and Cider Festival takes his first sip of award-winning cask ale, he says it will never have tasted so sweet.
James 'Arfur' Daley, of the Campaign for Real Ale (Camra), believes that Welsh brewing hasn't been in such a healthy state for 85 years.
The new frontline in the fightback are small brewers and micro breweries dotted around Wales, from Snowdonia to the south Wales valleys.
The doors of the Motorpoint arena in Cardiff open on Thursday, with organisers hoping many of the 45 Welsh breweries will have their beers featured among the 150 cask ales on offer over the next three days.
In 2008, Mr Daley feared that the smoking ban, combined with the economic downturn - which saw seven pubs a week closing at its height - would soon spell the end for real ale and pubs in Wales.
"At least one pub a day was going bust in Wales, people were losing their jobs left right and centre, supermarkets were selling beer cheaper than brewers could brew it, and the smoking ban was keeping away at least a third of what custom did remain," he said.
"Don't get me wrong, pubs and brewers are still facing a battle for survival, but since that lowest point, many have found a way to survive in a way which is actually benefiting real and cask ales."
"There's not really one reason; though ironically chains closing pubs has provided a bit of growing space for independent traders."
"Also, the smokers have gradually come back, finally there's pressure on supermarkets to stop cutting the throats of the pubs, and there's a real focus developing on quality, locally-sourced beers."
One man who has taken advantage in the rising interest in cask ale is Richard Anstee of Cwmcerrig farm in Gorslas, Carmarthenshire.
After years as wholesale suppliers of other brewers' ales, he and his father spotted a gap in the market to brew their own.
Six weeks after the Kite Brewery's launch, demand is outstripping supply, and the hunt is on for larger premises and staff.
"We had a fantastic springboard when we recruited a former chief brewer for Bass, and managed to get our Golden Wing ale stocked in a farm shop, who guarantee everything they sell is sourced from within 18 miles."
"They have over 1,000 customers a week, and before long we had pubs coming to us to ask if they could stock our beer"
"It's sad that some brilliant pubs and brewers went to the wall in the recession; though largely all it did was to clear out the dead wood."
"There's less money around now, but people are more choosy how they spend it."
New career
For some, the recession has meant an opportunity to try their dream of setting up their own brewery.
In 2008, Pam Honeyman was the chief executive of Age Concern in Montgomeryshire.
But fearing for her job in the charitable sector, she embarked on a brewing course at Sunderland University, and returned home to open Monty's Brewery in a disused industrial unit.
Three years on, she's fresh from winning five gold medals at the awards of the Society for Independent Brewers, and supplies ales to over 20 pubs throughout the Marches and as far afield as Birmingham.
"It was one of those things that was just meant to be I came back from Sunderland and begged my local to take a barrel of my first brew for free. The first stranger who walked in and ordered a pint, just happened to be a beer critic for Camra."
"He told me to definitely give up my day job, and even though it's hard and not massively profitable work, I haven't looked back since."
"I still think of myself as a hobbiest, though it brought me up short when I went shopping in Birmingham and saw my ale in a pub in the Bull Ring, so far from home!"
"The recession is part of it, but I think it's also to do with people being increasingly health and environmentally conscious. Mass-produced beers are shipped half way round the world and contain all sorts of colourings and preservatives."
"Whereas cask ales have nothing but malt, hops, yeast and water, and more often than not they're made on your doorstep!"
Justin "Buster" Grant, is chair of the Association of Welsh Independent Brewers, which was founded in 2007.
He said: "In Wales in the last 10 years the figure has gone up from 12 to 45 and in the last 12 months, three or four new micro brewers have opened.
"The small brewers have broken into the market and it is growing."