'Rapid Recovery project makes patients better quicker'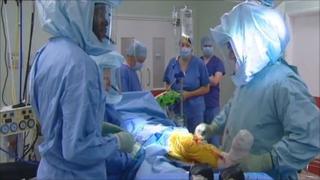 Doctors in north Wales say they have halved the time orthopaedic patients spend in hospital after major surgery like knee replacements.
Health services from around Europe are visiting the region to study the Rapid Recovery programme.
It helps patients to be walking again with hours of the operation and back at home sooner.
North Wales has become one of three centres of excellence for orthopaedic rapid recovery in Britain.
The process begins weeks before surgery, when patients are brought in to a special "joint school", and given the expectation of being mobile again within hours of an operation.
The average hospital stay for knee replacement patients has been reduced from over six days to less than three.
Kathleen Oftedal from Wrexham needs a new knee - her second replacement in two years.
Traditionally, she would have needed a week in hospital to recover.
But doctors at Wrexham Maelor Hospital plan to have her back on her feet much sooner.
"They say that the sooner you get the joint working, the better it is," says Ms Oftedal.
'Timely discharge'
"If you get the joint working straight away, you can dispense with the crutches much sooner - I'd rather be at home than in hospital."
According to Neil Windsor from Betsi Cadwaladr University Health Board (BCUHB), the key is mobilising the joints as soon as possible.
"This isn't about rapid discharge - it's about timely discharge," he said.
"What's happening is the patients are in the same condition post-operatively on day one or day two or three than they were in day six or day seven.
"But the patients have got the confidence because we're spending that time with them at the pre-operative stage."
A faster throughput of patients will help save time and money for the BCUHB health board which manages hospital services, at a time when savings have to be achieved.
But, according to consultant Tony Smith, the programme is also improving their results.
"It looks as if our early complication rate - for example a re-admission to hospital for a thrombosis - seems to have gone down" he says.
"We are seeing much happier patients - they are much happier with the whole process, getting out of hospital more quickly.
North Wales has become one of three centres of excellence for orthopaedic rapid recovery in Britain, with teams from other countries such as Denmark visiting to study the way they work.