'Many' South Wales Police stations to close to public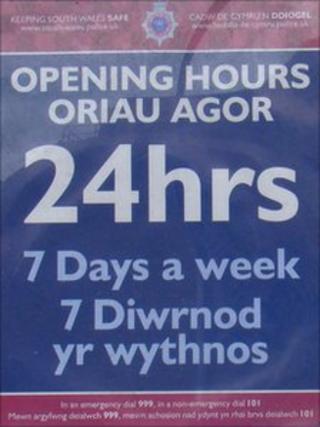 South Wales Police says "many" of its smaller police stations will close to the public as it looks to plug a £47m funding gap over the next four years.
It is not replacing front counter staff as they leave.
In the western division it is reported the public will only be able to walk into two stations to speak to police, at Swansea Central and at Neath.
The force said its busiest stations would stay open and the public had "more ways than ever" to reach police.
Councillors in Port Talbot say they will fight any move to reduce the front desk service there.
Assistant Chief Constable Julian Kirby said the force had been looking at ways to save money for some time but maintaining a "reliable, operational service across all four divisions" was its priority.
In a statement issued to BBC Wales he said: "The future of some police enquiry desks across the force is one of many options being considered to address our budget deficit and proposals are being evaluated.
"To help meet financial demands, South Wales Police is not replacing station enquiry staff as they leave.
"This means that many of the smaller offices, many of which have one caller or less on average per day, will no longer be staffed.
"To maintain the best possible service, local commanders are making adjustments to keep our busiest enquiry offices open."
He said it was important to differentiate between closing enquiry offices and closing police stations.
He said research showed most people contacted the force by telephone and he said there were more ways than ever for the public to get hold of officers.
He said as well as the emergency and non-emergency numbers the public had access to the mobile numbers of their neighbourhood officers to discuss community issues.
"Officers will still be on the beat in your area, preventing and detecting crime, and will respond when you call," he added.
"We appreciate that people like to be able to visit their local enquiry office, but they have our assurances that, while big decisions will need to be made over the next few months and years, the public will remain our priority."
The South Wales Evening Post has reported that front desks at Morriston, Gorseinon, Mumbles, Cockett, Port Talbot and Cymmer will close by the end of the year leaving just Swansea Central and Neath in the Western Division.
But councillors in Port Talbot say they will fight the changes.
Taibach councillor Anthony Taylor said: "It is outrageous to think that Port Talbot, a town of 60,000 people will be left without access to a front-desk police station.
"We must do everything thing we can to make sure that people feel safe and secure in their own communities.
"Closing the station to the public will not be a positive move."
"I am sure local people will be up in arms about the decision."
In a speech to the Police Federation last month Home Secretary Theresa May said the cuts to police budgets were essential as part of the spending review.
But she said she wanted to work with the police on cutting red tape and finding ways to modernise the job.