NHS Wales and political football - MPs join the debate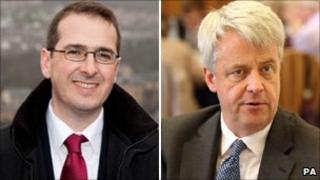 Google "NHS" and "political football" and you won't be short of options.
Add "Wales" to the search paramaters and you may still find youself with 34,400 items to choose from.e
The health service in Wales hasn't been run from Westminster for more than a decade but that doesn't stop MPs talking about it.
As David Cameron took the flak over his controversial NHS reforms in England back in April, he was happy to use the health service in Wales to distract attention from the controversy during question time in the Commons.
He was at it again last week, in comments that were analysed here.
Yesterday, as the health secretary, Andrew Lansley, unveiled his amended plans for England, Labour Welsh affairs spokesman Owen Smith put him on the spot:
"Given the secretary of state's manifest interest in Wales, I invite him to come to Wales to meet some Welsh patients with me to find out at first hand which party they trust to safeguard the heritage of the NHS—Labour or the Tories.
"I suspect that the answer would be revealing for him. How much Welsh taxpayers' money has been wasted on this needless reorganisation of the NHS?"
It was an invitation Mr Lansley felt able to refuse: "You must know that the money available to the NHS in Wales is available to the NHS in Wales, and that it is separate from England.
"The Labour Welsh assembly government have made their own decisions about the priority that they attach to the national health service in Wales, and the result is, as the King's Fund says, that they plan to reduce its budget by 8.3% in real terms.
"We are going to increase the NHS budget in real terms. The result can be seen in waiting times, which we were talking about. In England, the proportion of patients admitted to hospital who are seen within 18 weeks, according to the latest data, is 89.6%. He might like to reflect on the fact that the figure for Wales is 64.5%."
The NHS in Wales may be the responsibility of the Welsh government but I suspect we haven't heard the last of this argument at Westminster.