Cheryl's party mystery deepens amid guest list secrecy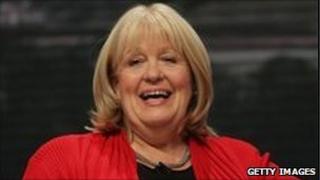 Your starter for ten. What have the following got in common? Entertainer Bruce Forsyth, banker Stephen Hester, former Welsh first minister Rhodri Morgan, and John Motson.
All have been guests at Chequers, the prime minister's country home (under previous prime ministers) - and their names were revealed under the Freedom of Information Act.
Here's a more challenging question. Who was invited to the Wales Office's St David's Day party this year?
We know which MPs were invited, according to the hostess, secretary of state Cheryl Gillan. But that list is far from exhaustive and her coyness in revealing names has sparked a Westminster mystery.
A week later, she did give a few clues: "Right hon. and hon. Members representing the coalition parties, official opposition spokespeople, media and various representatives of Welsh society were invited. A total of approximately 50 attendees."
So was it a right old knees-up featuring Welsh stars of Big Brother and other celebrity TV shows? Would I be breaking a super-injunction by naming names?
Probably not. I was invited myself although pressure of work prevented attendance. Colleagues who did make it report a sea of familiar faces among whom little out-of-the-ordinary happened.
Labour MP Kevin Brennan's frustration with the Wales Office non-disclosure policy has led him to table a number of parliamentary questions and submit a request under the Freedom of Information Act.
He is still waiting for a response, more than three months after the reception, leading him to wonder what Mrs Gillan has to hide.
A Wales Office source suggests his parliamentary answers have now cost more to answer than the reception itself.
Cheryl Gillan's deputy, David Jones, explained the Wales Office delay in replying to the FoI request: "The reasons why the deadlines were not met were that additional time was needed to ensure that the information was comprehensive and accurate, to consult others or to consider fully the public interest test."