Round Wales scooter man Mark Newton's litter complaint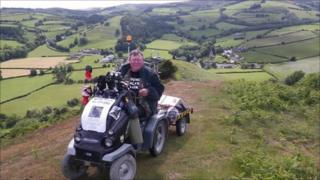 An ex-soldier who has circled Wales on a mobility scooter has praised efforts to improve access to the countryside, but criticised the amount of litter.
Mark Newton, 45, has returned to Llanelli, 52 days after setting off on his epic trip.
He said with a few exceptions much had been done to make paths and cycle routes friendly to disabled access and encourage people out into fresh air.
But his only gripe is the amount of litter and fly-tipping he encountered.
Mr Newton, from Loughor near Swansea, has raised more than £8,000 for the armed forces charity Help for Heroes, The Royal British Legion and his old regiment the 1st The Queens Dragoon Guards.
He was injured while on attachment to the United Nations and the regiment and legion helped him to buy a sturdy scooter capable of handling rough terrain as he is a keen wildlife photographer.
"I really have seen some wonderful views and some cracking wildlife," he said.
The welcome he received from people across Wales and their support was fantastic, he said.
Mr Newton's route took him west to Pembrokeshire, then to north Wales following the coast and back down the border with England.
He travelled on a mix of costal paths, roads and cycle routes.
He said with the exception of a few cycle paths which had pinch points - gates aimed at stopping cars and horses from passing - access for his scooter had been excellent.
He would encourage anyone who uses a scooter to get out and explore the countryside.
"There was three and half weeks of non-stop wind and it was sapping me and the battery," he said.
"But the scenery has made up for it more than anything.
"The only thing that got to me was the rubbish we as people dump and fly-tip. It just comes down to people being lazy."
As he neared the finish, Mr Newton said he was to sad to be on the home stretch as the experience would stay with him for the rest of his life.
But he is already think about heading out again to circumnavigate the whole of the British coast.