'Community' tennis centre reopens in Swansea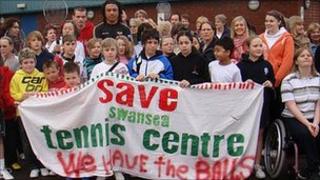 The only indoor tennis centre in south-west Wales is reopening as a community-run facility after the council could no longer afford to fund it.
The survival of Swansea tennis centre has been welcomed by aspiring tennis-players in the region.
It is also being seen as an example of how volunteer-run services might fill the void left by public spending cuts.
Tennis Swansea 365, mostly made up of volunteers, is a social enterprise.
Chair Collette Richards said: "It's not a luxury, an indoor tennis centre in this part of the world, it's an absolute necessity. It's a no brainer."
The group offered to take over the centre after Swansea council announced in February 2010 that it could no longer afford the £120,000 annual running costs.
It has taken until now to finalise the transfer to Tennis Swansea 365.
It is a model that many will be watching keenly, as an example of what Prime Minister David Cameron has called the "big society" in action.
But Ms Richards warned that communities taking on local services involved a lot of hard work.
"It's been really tough, and I can't believe the number of things we've learnt how to do," she said.
"Week after week, plodding through - so we've reached the end of a long, long fight."
As well as volunteers, the project has required professionals offering their time for free.
Local law firm JCP solicitors has provided hours of free legal advice that would have cost thousands of pounds.
Massive boost
Associate solicitor Nick Thomas said: "I used to use the centre an awful lot as a youngster, so I had a vested interest in trying to keep it open.
"And from a firm point of view, we're trying to get involved with a number of sporting organisations across the country, so it fitted in to both perfectly."
Regardless of the broader implications, tennis players in the area are seeing the reopening as a massive boost.
Wales' number one ranked female player, Fran Lewis, 19, said: "It's massively important.
"Even throughout the summer, I'm struggling to get on court outdoors because of the weather.
"It's so hard to keep up with people who are playing four hours a day, every day.
"It's impossible, really impossible, without this facility."