Questions over number of councils in Wales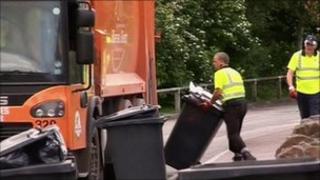 Questions are being raised about whether the number of local authorities in Wales should be cut.
One public finance expert argues there are too many councils and often huge disparities in their resources.
It follows a review commissioned by the Welsh Government which found that replication of functions and services was of 'questionable value'.
The review suggested amalgamating areas like social services, transport and waste management.
The Simpson review was published in March.
Author Joe Simpson from the Local Government Leadership Centre in London told the BBC's Politics Show Wales: "There's no requirement for everything to be done individually in each local authority.
"So what we're proposing is that sometimes with commissioning, sometimes with delivery, we should actually work at a sub regional or a regional level."
Sticking plaster
Mr Simpson said that this would save money, but argued it would also "improve the quality of the service for the citizen".
But Prof Hugh Coombs from the University of Glamorgan who specialises in public service finance said that is just papering over the cracks.
"I think there is a general view that the structure that we have is not ideal, the question then becomes how do we move forward and when do we move forward.
He continued: "The Simpson report is putting a sticking plaster on the structure as it currently is."
Prof Coombs said he did not know what the ideal number of councils would be, but suggested it was "somewhere in the middle" between the current number of 22 and calls by the CBI to reduce that number to seven.
The last re-organisation of local government in Wales took place in 1996 when the 22 unitary authorities were created, replacing the old system of eight county councils and 37 district councils.
The Simpson Review advocates "clever partnerships, solving particular needs".
Mr Simpson said: "We already have that in growing partnerships around social care where Welsh local government is making those advances."
He insisted that this will not create another layer of bureaucracy.
"It will actually both simplify it and re-enforce local democracy. What's not being taken away here is local democratic choice, what is happening is trying to drive down cost and drive up quality."