Welsh schools shut in public sector pensions strike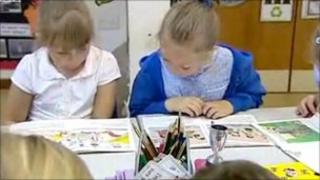 More than 1,000 Welsh schools are set to fully or partially close on Thursday as up to 20,000 teachers walk out in a protest over changes to their pensions.
Government services including the DVLA, courts and tax offices are also due to be hit by industrial action by a similar number of public sector staff.
UK ministers insist the changes are a vital part of pension reform and were fair to both workers and the taxpayer.
The Welsh Government said it aimed to minimise the impact of the dispute.
The one-day strike is a protest at plans to raise the station pension age, raise employee contributions and link pension values to the generally lower consumer prices index (CPI) rather than the retail prices index (RPI).
Around 20,000 members of three teaching unions - National Union of Teachers (NUT), Association of Teachers and Lecturers (ATL) and University and College Union (UCU) are taking industrial action in Wales.
More than half of Wales' 1,800 schools will be affected, either fully closing or closing to some classes due to a shortage of working staff - see more details of expected school closures here.
A similar number of members of the Public and Commercial Services Union (PCS) are also to walk out.
Disruption is expected across the civil service in Wales including the DVLA, the Office for National Statistics, the passport office and Companies House.
UK Government services to set to see walk outs include the Her Majesty's Revenue and Customs and the Department for Work and Pensions, as well as in Jobcentres across Wales.
The one-day walk out is also due to affect the courts service in Wales.
The National Library of Wales and the National Museum of Wales are to close if the strike goes ahead.
Travellers arriving at Cardiff Airport face possible delays as those UK Border Agency staff who are members of the PCS began their strike at 1800 BST on Wednesday.
The unions are holding a series of rallies during the day to highlight their cause, beginning in Llandrindod Wells at 1100 BST, with the largest march and rally in Cardiff at midday.
A union delegation met Welsh Finance Minister Jane Hutt at Cardiff Bay on Wednesday afternoon to call on the Welsh Government to pressure UK ministers on their behalf.
Welsh Government ministers are expected to work as usual but not to cross any picket lines.
The Welsh Government insists the unions are in dispute with ministers in Westminster about the proposed changes to public sector pensions, not with ministers at Cardiff Bay.
It said: "Pensions are not a devolved matter, and the focus of the Welsh Government is now to minimise the impact of any industrial action on our public services."