Summer childcare in Wales hard to find, claims report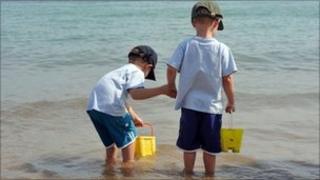 Holiday childcare is cheaper in Wales than other parts of the UK but it is unavailable to many families, according to a new report.
The Daycare Trust said Welsh councils had made fewer cuts to services than those in England and Scotland.
Holiday childcare costs have risen by two percent this year to £81.98 in Wales compared with £96.85 in England and £89.79 in Scotland.
But three out of four Welsh councils do not provide enough care for over 12s.
The report said two thirds fell short on provision for disabled children.
The trust says local authorities should protect holiday play schemes and provide subsidies for lower income families.
It also said they should work with the Welsh Government to ensure there is sufficient childcare for all working parents.
Anand Shukla, acting chief executive of the Daycare Trust, said: "These are essential services that families across Wales rely upon and we know that without these services many parents will have no option but to give up their job or take a period of unpaid leave.
"The lack of childcare in Wales for disabled children and those aged twelve and over is a particular concern."
David Dallimore, director of Melyn Consultancy which specialises in supporting councils with their childcare responsibilities, said Wales starts from a lower base then the rest of the UK.
"Fewer than half of the local authorities in Wales actually provide any kind of open access play provision in the summer," he said.
"Local authorities' main role in childcare is not in providing it - childcare in Wales is mainly provided by the voluntary and private sector.
"The local authority role is to try to coordinate that for parents and then encourage the provision to be developed.
"But we still find when we talk to parents that holiday childcare provision is very difficult to find in some areas."
A Welsh Government spokesman said it was committed to ensuring parents had the support they need to access services.
"We have set out a clear policy for childcare in Wales and will continue to support the development of accessible and affordable childcare."