Wales car smoke child protection considered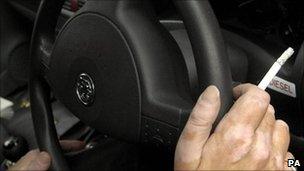 A ban on smoking in cars where children are present may be introduced in Wales if a campaign to highlight the issue does not work.
The Welsh Government says it will consider legislation if people's attitudes do not change in three years.
Anti-smoking campaigners say an outright ban should be introduced now.
But smokers' lobby group Forest said there was no need for "heavy-handed legislation" as it was common sense not to smoke in a car carrying children.
First Minister Carwyn Jones has outlined his government's plans to protect youngsters from the effects of smoking in cars.
He said legislation would be "the next logical step" following the ban on smoking in enclosed areas such as offices, pubs and restaurants.
"Children are particularly at risk from second-hand smoke, especially in vehicles where a confined space means there is no respite from the harm of the toxic chemicals in cigarettes," he said.
"The law already requires any vehicle that is used by more than one person in the course of paid or voluntary work to be smoke-free and an extension is the next logical step.
"We will mount a renewed campaign to tackle smoking alongside other interventions such as quit programmes, but will consider pursuing legislative options if children's exposure to second-hand smoke does not start to fall within the next three years."
Chief Medical Officer for Wales, Dr Tony Jewell, said: "What we're concerned about is protecting children so the focus of this is protecting children from secondhand smoke.
"We know that 86% of children don't want to be in a car with smokers and 75% of the population agree with a smoking ban so we think there is public acceptance that this is damaging to children."
Ash Wales, which campaigns to highlight the effects on health of smoking, welcomed the announcement but urged Mr Jones to introduce legislation now.
Chief executive Tanya Buchanan said: "The Welsh Government need to listen to public opinion on this issue as they have consistently supported such a ban over the past few years and 83% of Welsh adults want to see it introduced now not three years down the line."
Julie Barrett, director of the Chartered Institute for Environmental Health in Wales, told BBC Radio Wales the smoking ban in pubs and clubs in Wales had been a success and was largely self-enforcing.
"But the fact of the matter is we had to have a ban before it became self-enforcing," she said.
"If there is to be a ban there will be enormous difficulties in enforcing it, but we heard the same thing about the ban in pubs and clubs and it has turned out to be a relatively straight forward process."
Simon Clark, director of the smokers' lobby group Forest, said: "I would not encourage any patent who smokes to light a cigarette in a small confined space like a car if children are present.
"I think it is common sense, but you don't have to legislate for common sense.
"Surveys show smokers have dramatically changed their behaviour over the last decade or so.
"A survey carried out last year showed 85% of adult smokers would not dream of lighting a cigarette in a car with children in it, so why on earth do we need heavy-handed legislation?
"We don't need the heavy hands of state interfering in people's private spaces."
At the British Medical Association's annual conference in Cardiff last month doctors voted for a complete ban on smoking while driving.
Related Internet Links
The BBC is not responsible for the content of external sites.