Top pupils in Wales need more challenges, says Estyn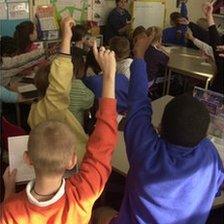 Primary schools in Wales have been accused of failing to provide enough challenges to their best pupils.
Education watchdog Estyn says most do too little to identify, support or track progress of the more talented.
These pupils are more likely to achieve high standards in schools that "set rigorous targets," the report says.
The Welsh Government said Education Minister Leighton Andrew had set out plans to "raise performance across the board," including in the most able.
About 20% of pupils are deemed more capable of achieving above the expected curriculum level or showing particular talent in a specific area, such as music, drama or sport.
But many schools fail to help their brightest pupils achieve high standards, according to the report, Supporting More Able and Talented Pupils in Primary Schools.
Estyn chief inspector Ann Keane said Wales had "few high achievers," compared to the top-performing countries in the world.
"Raising standards for the more able and talented is often a weak area in primary schools," she said.
"In the few schools where the more talented pupils really flourish, all pupils tend to achieve high standards. This is because the teaching and learning strategies in those schools have a positive impact on pupils of all abilities."
Inspectors found there was "often not enough continuity and progression for more able and talented pupils", who find that work "too easy and teachers' expectations are not high enough" when they reach secondary school.
Giving examples of how other European counties such as the Netherlands and the Czech Republic support more talented pupils, the report also praises Glan Gele infant school in Conwy, which won an award last year for encouraging its most promising pupils to reach their highest potential.
Nearly half of its 240 pupils fall into the "more able and talented" category and the school runs more than 15 after-school clubs for those gifted in subjects including art, sport, reading, science and maths.
After setting up a boys-only literacy group for those with higher potential to achieve in English, teachers found that half the group achieved above the expected level in the end-of-key stage tests, whilst the other half performed very well.
Head teacher Julia Buckley Jones said: "We do talent-spotting, looking for academic potential and also more artistic, creative abilities and talents outdoors.
"We identify talented children through teacher observation and standardised testing. We try to make sure each child reaches their true potential.
"It's important to challenge all pupils."
The Estyn report sets out recommendations for primary schools and local authorities to provide more individualised learning and effective training for teachers.
The Welsh Government said Education Minister Leighton Andrews "has made clear his plans to raise performance across the board".
A spokesperson said: "Our 'school effectiveness framework' aims to ensure that all children and young people are supported to reach their full potential, including our most able and talented pupils.
"The new school standards unit will be looking at performance across the ability range, with a focus on the effective use of data to identify strengths and weaknesses and target effort and resources.
"We have given a response to the recommendations made by Estyn and will be writing to local authorities to draw their attention to this report and encourage them to address the recommendations contained within it."
Related Internet Links
The BBC is not responsible for the content of external sites.