Wales' school buildings programme is reviewed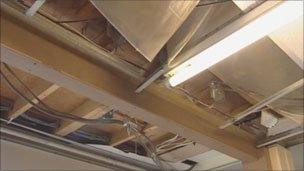 The Welsh Government's national school building programme, 21st Century Schools, will not go ahead as planned.
Councils have been told to go back to the drawing board and resubmit plans for new schools, as well as to contribute significantly more funds.
Many school building and improvement projects are likely to be scrapped or delayed.
Education Minister Leighton Andrews told AMs: "The environment has changed."
Each local authority had submitted plans to transform their school stock to the Welsh Government.
Councils sent proposals based on them contributing 30% of the costs of each project, with the remainder being paid by the Welsh Government.
However, BBC Wales revealed in December that a shortfall of hundreds of millions of pounds was expected.
It came after a previous Welsh Government promise was not met to ensure every school building was "fit for purpose" by 2010.
Local authorities have now been asked to review and resubmit their plans.
They will be asked to contribute 50% of the costs.
In a written statement to AMs, Mr Andrews said: "There has been a sharp reduction in capital funding imposed on the Welsh Government - taken together a reduction of 40% will occur across the current funding period.
"Against that background, the board and the Welsh Government consider that authorities must be given the opportunity to review the timing and content of their planned investments so as to take the hard decisions early that will ensure funding goes to the delivery of excellence in education not the maintenance of buildings."
Dr Philip Dixon, director of the Association of Teachers and Lecturers (ATL), said the association was very disappointed.
He added: "None of us like to work in substandard conditions and children are no different.
"The announcement today means that in too many cases the renewal of buildings is further slowed down or halted.
"We realise that the Welsh Government is not the author of these immediate problems with funding, the Westminster coalition must shoulder the blame for that, but these are on top of a toxic legacy of historic underfunding of education in Wales bequeathed by some of the present minister's predecessors."
BBC Wales has obtained figures from 20 of Wales' 22 local authorities which show that they intended to build schools worth £1.361bn between now and 2015.
Over 15 years, the authorities planned to spend £4.434bn.
Most of the councils said they based their figures on the local authority's cost being 30%, with the Welsh Government funding the remaining 70%.
It is likely that a significant number of school building and improvement projects will now be scrapped, says BBC Wales education correspondent Ciaran Jenkins.
A Welsh Government spokesperson said: "To be very clear, the Welsh Government's 21st Century Schools programme has not been scrapped.
"This government is and remains committed to delivering schools that are fit for the 21st Century. This was never intended to be a 'big bang' approach, but a long-term programme of investment."
The spokesperson said it was "responsible government" to "work within the resources that we have".
Related Internet Links
The BBC is not responsible for the content of external sites.