Full-time Powys fire crews replaced by paid volunteers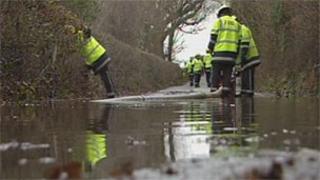 Voluntary firefighters are to replace full-time frontline crews in Powys as service chiefs look to cut costs.
Mid and West Wales Fire and Rescue Service are redeploying 21 firefighters in Llandrindod Wells, Newtown and Brecon to work in the community.
The fire service said standards would not drop and response times would not suffer.
But Montgomeryshire assembly member Russell George is concerned the decision will put lives at risk.
He has called on Local Government Minister Carl Sargeant to monitor the performance of Mid and West Wales Fire and Rescue Service in light of the new working arrangements.
Mr George said: "I have been raising concerns about these proposals for several months now.
"There were 21 full-time fire fighters based at three stations in Powys (Newtown, Llandrindod Wells and Brecon). Now those members of staff are only used to do home fire safety checks and other non-emergency activities.
"Emergency services are now being delivered by retained, part-time, firefighters. While I support their skill and commitment to the fire service, I am concerned that response times could increase and lives be put at risk."
He said there were also concerns Newtown fire station could be downgraded, and certain equipment used to tackle flooding and waste spillages could be withdrawn.
But Mid and West Wales Fire Service denied Newtown would being downgraded, and said there were no plans to withdraw the equipment.
Chief fire officer Richard Smith said: "As part of a comprehensive review conducted last year, we looked at the effectiveness of the whole-time staff at Newtown, Llandrindod and Brecon Fire Stations.
"We concluded that the community of Powys could be better served by providing these staff with defined roles to deliver community safety activities, and to improve support to colleagues working at retained stations within Powys. This is in line with our commitment to invest in education and prevention."
Mr Smith added that full-time firefighters would continue to be based at Newtown, Llandrindod and Brecon fire stations working within the community.
He said the fire authority was confident "there will not be a reduction in the standard of the emergency response service provided within Powys as a result of these changes".
In December last year the fire authority voted to make £1.2m of savings in areas such as overtime.