Peter Hain plans Welsh assembly election vote change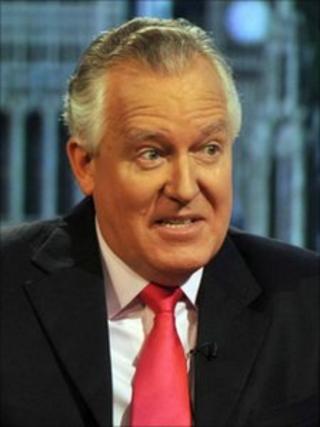 Shadow Welsh Secretary Peter Hain has called for a first-past-the-post voting system in assembly elections.
Labour will push for the change if the boundaries of Westminster seats are re-drawn.
The proposal would scrap the assembly's part-proportional voting system and create 30 two-members constituencies.
Mr Hain, who campaigned for the alternative vote in Westminster general elections at May's referndum, is hoping for cross-party support for the idea.
He will meet Welsh Secretary Cheryl Gillan on Thursday to discuss the plans.
The assembly's current electoral system sees 40 constituency members elected by first-past-the-post and 20 elected from regional lists.
The Wales Office told the Commons' Welsh Affairs Select Committee it is looking at how parliamentary boundary changes may affect assembly boundaries but stressed that the work is at a very early stage.
"As we've seen in Scotland, when you separate assembly seats from parliamentary seats, it creates a great deal of confusion for voters, for parties and for the wider public," said Neath MP Mr Hain.
"If that happened in Wales, you would be likely to have a situation where one assembly seat straddled three parliamentary seats, which leads to confusion for voters, political parties and their representatives.
Manifesto commitment
"I think everybody accepts there has to be change.
"There's a total agreement on this and we need to do it in a way that is non-tribal, crosses parties and seats to build consensus which I hope Cheryl Gillan does."
Mr Hain pointed out that May's referendum vote on a change from first-past-the-post to an alternative vote for Westminster general elections received a resounding no, which could clear the way for change in Wales. Mr Hain campaigned for a Yes vote in the referendum.
"The only acceptable option given the AV referendum result is to have all AMs elected by first-past-the-post, and we believe that each of the 30 new constituencies should elect two AMs by that system," he added.
"I think in retrospect we have to accept that we got it wrong when we set up the assembly with a two-tier electoral system that has two kinds of AM, and it should now be changed.
"We believe the only change that would be possible without a further referendum or general election manifesto commitment is a change to first past the post.
'Self interest'
"The case for AV at Westminster level was defeated by a thumping majority for first-past-the-post. This is the only voting system that commands cross-party and public support in Wales."
Mr Hain denied that the proposal was a bid to strengthen Labour's grip in Wales. The party is running the Welsh Government single-handedly after winning half the seats in the Senedd at May's assembly elections.
He said: "In the end it's not about who wins and who loses, it's about accepting the verdict of the electorate and they were clear in this referendum."
But former Plaid Cymru AM Helen Mary Jones claimed the plans were "self interest".
"This is party political motivated and to be completely honest, he should be ashamed of himself and if Carwyn Jones and the Labour AMs are backing him in this, then I think it's really disappointing," she said.
"If you go to a first-past-the-post system, we all know that you can get governments elected with overall majorities on less than a third of the votes.
"I don't think that's fair and I don't think the majority of the Welsh people would think that's fair.
"I think there is an argument for seats having the same boundaries... but it doesn't mean you have to go for the same voting system where the votes of two-thirds of the voters very often don't count for anything.
"If we are going to change the system and go for the seats having at Westminster having the same pattern as the seats at the assembly, there is an alternative to what Peter Hain is suggesting.
"You have 30 first-past-the-post constituencies and 30 list seats which would make the current system fairer and more proportional."
Liberal Democrat AM Peter Black said: "Peter Hain has supported voting reform all his life and now he and his Labour colleagues are proposing to make Wales less democratic and less accountable to the Welsh people.
"Labour has now given up any pretension they once had to be a party of democratic reform."