No 'naming and shaming' in Wales school bands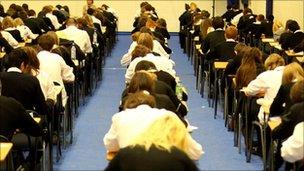 Comprehensive schools in Wales will be placed into performance bands from this autumn.
Education Minister Leighton Andrews said the grouping of schools is not about "naming and shaming or creating a divisive league table".
It will help ensure resources are directed to schools who need them most, he said.
Unions are opposed to school league tables being reintroduced in Wales, but have welcomed the banding alternative.
Unlike league tables ranking the best school down to the worst, banding is expected to group schools into just four or five bands, measured on the level of support needed.
Mr Andrews said the bands will be a tool for driving improvement.
"The national school banding system is a tool to help us be effective in driving improvement across the board," he said.
"The most important aspect of banding will be the support, challenge and sharing of best practice that follow."
"It is about grouping our schools according to a range of factors to establish priorities for differentiated support and identifying those from whom the sector can learn."
Anna Brychan, director of the National Association of Headteachers Cymru, said: "We welcome the fact that the minister is making clear that the purpose of the banding system is to identify the level of support and challenge required by individual schools to help them achieve what we all want.
"There is now a climate of expectation out there in our schools that this process will provide level of expert, accessible and specialist support for schools that many find hard to find now, and that this will be available consistently and to an equally high standard across the country.
"We very much hope that this promise can be realised."
Dr Philip Dixon, director of the Association of Teachers and Lecturers Cymru, said they were prepared to give a cautious welcome to the banding proposals and to accept the minister's assurances.
"However, the proof of the pudding will be in the extra support that schools will receive to improve their performance," he said.
"The success or otherwise of the school banding proposals will be judged on that."
Related Internet Links
The BBC is not responsible for the content of external sites.