Prisoners at HMP Cardiff and Parc Prison learn to sew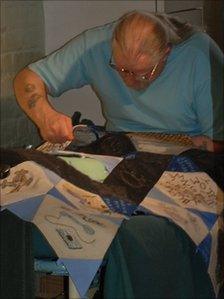 Prisoners have swapped stitching mail bags for making quaint cushions and quilts.
Volunteers from the Fine Cell Work charity have been teaching male prisoners in HMP Cardiff and Parc Prison how to sew, helping with their rehabilitation.
Inmates work on commissioned pieces, worth between £30 and £300.
The Prison Service said learning crafts in prison helps to "reduce reoffending".
Tony, a prisoner at Cardiff, has become an avid needlepoint stitcher during his sentence, making furniture covers, wall hangings and even working on more intricate restoration pieces.
'Moving letters of gratitude'
Working between 20 to 30 hours a week on his sewing, he is saving the money he makes for when he is released.
"Sewing has made it possible for me to earn enough and save enough for a good set of clothes," he said.
"I am also trying to save enough to put towards driving lessons and a driving test."
He added he had been deeply moved by some of the letters of thanks he has received from clients.
"I have received some really moving letters of gratitude and praise for the work I have done for various clients and this is very encouraging when it happens. You could tell some of the letters were from really nice people," he said.
"One woman wrote to me about her son in Afghanistan. It moved me to tears."
The charity's chief executive, Katy Emck, said learning to sew has increased prisoners' sense of self worth.
"They desperately need something to do, being locked up for very long periods," she said.
"When Tony was sent to prison, he was a very angry young man, always being put in segregation and always getting in fights.
"Now he has mellowed a great deal, has become highly skilled at sewing and has a positive focus."
She added that there was a sizeable market for handstitched products.
"We do a lot of commissions for private customers," she said.
"People with money will pay for something handmade.
"There has always been a tradition of craft in prisons. People need to use their hands."
A Prison Service spokesperson said: "The Prison Service works with a number of organisations to provide work and training, which helps to reduce reoffending and encourages constructive participation in the prison regime."
Related Internet Links
The BBC is not responsible for the content of external sites.