Rebecca Aylward case: Killing bet 'was joke' says youth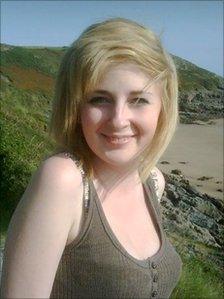 A 16-year-old youth who denies murdering his ex-girlfriend said he joked about killing her as a bet for a free breakfast but never meant it.
Rebecca Aylward, 15, of Maesteg, was found dead in woods in Aberkenfig, near Bridgend, south Wales, in October 2010.
Giving evidence in his own defence the boy told Swansea Crown Court he would often speak about wanting to kill her.
He claims it was his best friend who carried out the killing.
The defendant started his own evidence by admitting he often talked about killing her - but denied ever meaning it.
His barrister, Peter Rouch QC, asked him: "Did you say you could kill Rebecca?"
The teenager answered: "Yes I said it more than once - I probably said it about most people."
Mr Rouch asked: "Did you have any intention of hurting or killing Rebecca?"
The defendant answered: "No."
The boy told a jury: "I said I hated Rebecca sometimes. That is when my friend turned to me and said 'get rid of her then. Just do it'."
"I was laughing first of all. Then he said 'you probably couldn't do it anyway'."
"But I said yes I could. My friend told me 'seriously just go through with something you've said for once'."
"He said 'I'll tell you something - if it does happen I will buy you breakfast'. I said you're on."
Mr Rouch asked him: "Where you serious?"
The boy answered: "No. No-one kills for a breakfast."
When asked if he said he would push Rebecca into a quarry the teenager laughed and said: "Probably, yeah."
Mr Rouch asked: "Did you say you could break her neck?"
He answered: "I said it about people - I'm not sure if I said it about Rebecca."
Mr Rouch asked him whether he used the word 'hate' a lot.
The boy answered: "Yes, but sometimes if I don't like my food I would say I hate it. I've probably said I hate most people over the course of the year.
"It was a word I would use and I meant at that moment I disliked them and didn't want to spend anymore time with them at that moment."
The 16-year-old, who cannot be named, denies Rebecca's murder in woodlands.
The jury was told the schoolgirl died of head injuries.
She was found still wearing new clothes bought for her the day before her death.