Leader Davies's task to pin down and stand up to Labour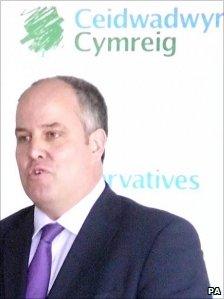 Andrew RT Davies has claimed that he is the man to stand up to First Minister Carwyn Jones. The boast is about to be tested.
One Conservative AM who backed Mr Davies's leadership bid said his party needed someone who could match the Welsh Labour leader.
South Wales East AM William Graham said Mr Davies's biggest challenge will be "pinning down really what Labour want to do".
"Nobody would detract from Carwyn - he is a good performer, and we need the same," he said.
Fellow Tory AM Darren Millar, another supporter of Mr Davies, said: "In Andrew we have got a very colourful character, haven't we.
"He has clearly got to make his mark quickly.
"I want to see Andrew becoming a household name in Wales, in the same way that really only Rhodri Morgan has been in terms of assembly members.
"In the chamber he is going to have to be very careful to deliver some knockout blows with Carwyn."
During his leadership campaign, Mr Davies made much of his life outside politics.
Hoping it would strike a chord with his party and the wider electorate, the married father of four repeatedly stressed his credentials as a family man and as a businessman.
Opposite a picture of his family and their dog, the first line of his leadership manifesto states that entering politics would never have crossed his mind in his younger days.
His background as someone with a "real job" will benefit the new Welsh Tory assembly leader, Mr Graham said.
"That will resonate because to most electors, politics is only an infinitesimal part of their thought process," he said.
"It's a bit of a cliché, but with Andrew it's true: what you see is what you get.
'Fully paid-up subscriber'
"He's certainly a bit loud, but he's forthright and actually you can count on his word."
Mr Davies is a partner in the family farming business near Cowbridge, Vale of Glamorgan, where he was born in 1968.
He joined the Conservative Party in 1997 and twice stood as a parliamentary candidate before being elected to the assembly in 2007.
He served as the Tories' shadow health minister in the last assembly. But an apparently sudden announcement that he was vacating the role sparked speculation about his ambitions.
Mr Graham described him as "more right of centre then left of centre", but said the Welsh Conservatives would not deviate from their pro-devolution line under his leadership.
Mr Millar said: "He is a person who is progressive in my opinion.
"He is fully on board with the changes that have occurred in the party over the last few years and he is a fully paid-up subscriber to devolution as well."