Gill's Cruise Centre tourist pledge as firm halts trade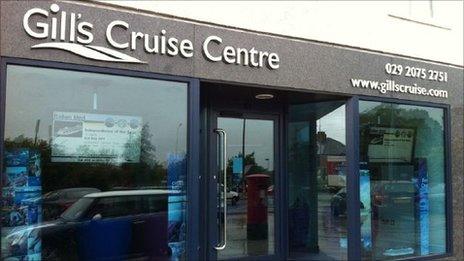 Thousands of people booked onto cruises have been told they will still be able to go on holiday after a Cardiff-based travel company stopped trading.
Gill's Cruise Centre took bookings for operators including P&O, Cunard and Royal Caribbean.
Travel association Abta says it has withdrawn the firm's membership due to "a financial failure".
Gill's could not be contacted for comment and its website said it could not accept new booking queries.
Customer Brian Jenkins said he had visited the company's shop in Cardiff on Friday after hearing they were facing potential financial problems.
Mr Jenkins said he was hopeful that the trip he had booked for his wife and himself to the Norwegian fjords will still be going ahead.
"I'm going to ring P&O to clarify there are no problems as soon as I get home," he added.
Abta, which represents travel companies, said any cruise booked through Gill's would be honoured and was fully financially protected.
Customers were advised that they could expect to hear from their cruise line. Any who wanted to contact their cruise line could do so by using details on their confirmation invoice.
It said people who may have booked their flight and cruise directly with Gill's under their Air Travel Organisers' Licensing (Atol) licence should contact the Civil Aviation Authority.
If the cruise and flight have been booked with different suppliers they were advised to contact the cruise company.
A message on Gill's website said it regretted that it was unable to accept new booking inquiries.
It added: "Our existing clients with queries should telephone our client service department on 0845 460 6094."
The company is described on its website as "family-owned and established in 1957".
It has a sales office in Paddington Central, London, while in Cardiff it has a client services team based at Llanishen and a retail centre in Rhiwbina.
One company no longer working with Gill's is Carnival UK, which includes P&O Cruises, Cunard, Princess Cruises and Seabourn Cruises.
Carnival UK's sales and customer services director Giles Hawke said his company severed the agency relationship with Gill's earlier in the week week because of increasing concerns about its financial position.
He added that if customers had booked a Carnival cruise with Gill's their holiday was safe.
Rochelle Turner, head of research for Which? Travel, said the travel industry had been through some turbulent times over the past two years.
"Gill's is the most recent in a long list of travel companies that have suffered as a result of the economic downturn," she said.
Related Internet Links
The BBC is not responsible for the content of external sites.