Llantwit Fardre play scheme scrapped over parent fights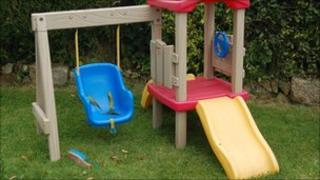 A summer play scheme in Rhondda Cynon Taf has been cancelled after police were called in to separate parents fighting over limited places available for children.
Llantwit Fardre Community Council said it axed its plans after tempers flared on three days at Gwauncelyn Primary, Tonteg.
The council said the police were called when parents began fighting.
Councillor Graham Stacey said "there's no excuse" for the parents' behaviour.
The authority normally runs four schemes throughout the Llantwit Fardre, Tonteg, Church Village and Efail Isaf areas.
But they were reduced to just two this year, following a flood in one of the schools and changes to Welsh Government regulations regarding the sort of premises and number of staff needed to supervise the children.
On Monday, the first day of the scheme, between 140 and 160 parents queued for several hours to secure one of the 110 first-come-first-served places at Gwauncelyn Primary.
As it became obvious that not everyone was going to get in, tempers flared and violence broke out.
Similar scenes were repeated on Tuesday and Wednesday, although they were less severe as police were already on hand, anticipating difficulties.
'High tension'
In a letter to be sent out to all households in the area this week, Llantwit Fardre Community Council Leanne Handley said the risk of "further altercations between parents" left the council with "no alternative but to close down all play schemes with the last sessions being held on Friday 29 July."
She added that the "unusually high demand for places", particularly at Gwauncelyn, had caused "high tension and even fighting amongst the parents requiring a police presence".
Rhondda Cynon Taf councillor for Church Village Graham Stacey, who also serves on Llantwit Fardre Community Council, said cancellation of the remaining play schemes would mean that "a minority of parents will have ruined the holidays for everyone".
"First-come-first-served seemed the fairest system at the time, but in the light of what's happened, we'll have to go back and take a look at whether there's a safer way in which we can relaunch the play schemes," said Mr Stacey.
"It was always going to be difficult this summer, as we've had to juggle around with venues on a tighter budget, and haven't been able to offer as many places as normal, but that's no excuse for the behaviour which children and our employees have had to suffer."
One parent, who only wanted to be identified as Emma, told BBC Wales: "I saw the police hauling two parents off, but there were dozens abusing the staff as well as each other.
"There's a lot of people around here who seriously ought to be ashamed of themselves.
"When adults behave like that if they can't get their own way, then what hope is there for the kids?"