Sprinkler cost claim 'reckless', says AM Ann Jones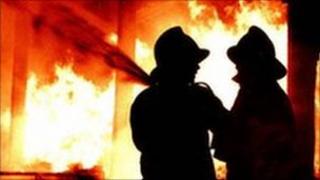 A house builder who claimed compulsory fire sprinklers in homes would deter house building in Wales is being "reckless", says an assembly member.
Steve Morgan of Redrow Homes said installation costs would put developers off building in poorer areas like the valleys.
But Ann Jones, Labour AM for the Vale of Clwyd, said: "Redrow are choosing threats over facts."
The Welsh Government is consulting on the regulations.
Mr Morgan, who is also the founder of the Flintshire-based company, says the cost of installing the sprinklers alongside other targets for energy efficiency will put developers off building homes in poorer parts of Wales, like the valleys and the north east.
Mr Morgan told BBC Wales that Redrow estimates the cost of installing a sprinkler in a three-bed house to be about £3,500.
His views have been echoed by some other housing firms, and on Thursday the Royal Institute of Chartered Surveyors said the new law should be introduced in stages.
'Cynical'
Wales was the first country in the world to rule that all new homes are fitted with sprinklers and Ms Jones was instrumental in fighting for the legislation to be passed.
She rejected Mr Morgan's cost estimate, saying the cost is more likely to be between £1,000 and £3,000, and that builders can absorb costs and make other adjustments to off-set the sprinkler installation costs.
"This really is cynical stuff from Redrow," she said. "To threaten that this will stop the development of homes in poor areas without backing it up with hard evidence is quite reckless.
"He is trying to protect his profit margins but this is about safety in homes.
"Sprinklers have been saving lives for over 100 years. We've proved the case that they work which is why AMs voted unanimously in favour of the measure.
"Redrow are choosing threats over facts. That's why they lost the argument in the long scrutiny process and I suspect the same will happen this time around."
But Goronwy Owen from Watkin Jones Homes said costs were crucial to house builders.
He said: "The price of properties has fallen in both of these areas and the cost of development is increasing via new legislation and it's going to be unviable to develop properties in some of these areas, if not all of them."
Mr Morgan warned his company is having to move out of areas where it has traditionally built when the cost of the sprinklers is added to the figure for proposed new environmental regulations on energy efficiency.
He believes the sprinklers combined with any carbon reduction targets could push Wales into a housing "crisis".
And Nick Bennett of Community Housing Cymru said it was likely some of the costs associated with the sprinklers would be passed onto tenants who are already "feeling the pinch".
But he added the housing body would look into other targets for energy efficiency and whether they delivered a better deal for tenants.
Environmental targets
The Welsh Government is consulting on the rules and said there was no timetable set for introducing water systems.
It said it was waiting for a cost benefit report by the Building Research Establishment to be published.
It added that at the moment it had no timetable for bringing in new regulations.
On the environmental targets the government said it was aware of consequences for construction costs and would continue to consult with the house building industry over coming months.
Last year a report from Cambridge University, commissioned by the Welsh Government, found that more than 280,000 new homes are needed in Wales over the next 20 years.
That is around 14,000 a year, but only 5,500 were built last year and the rate has been falling annually since 2007.