Roman port found at Caerleon on banks of River Usk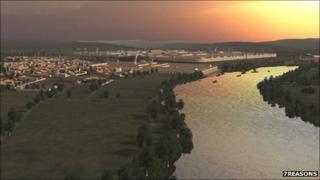 Archaeologists say the discovery of a 2,000-year-old port sheds new light on Wales' role in the Roman Empire.
A team from Cardiff University discovered the harbour outside the Roman fortress at Caerleon (Isca) during ongoing excavation work.
The remains are said to be well preserved and include the main quay wall, landing stages and wharves.
Excavation leader Dr Peter Guest said the port was a "major addition to the archaeology of Roman Britain".
Students using geophysical equipment, which can reveal outlines of buried structures, came across the remains of a site of large Roman buildings on the banks of the River Usk last year.
The buildings may have been market places, administrative buildings, bath houses and temples.
The excavation work, which also led to the discovery of the port, is said to have exceeded all expectations.
Dr Guest, senior lecturer in Roman archaeology at Cardiff University, said: "I think it's very important indeed for Caerleon because it allows us to see Caerleon in its immediate landscape so we now know there's this suburb of the fortress.
"Caerleon connected upstream with the hillier parts of Wales, and there were Roman forts at Abergavenny and Brecon, but if you go downstream you can go to Roman London but also the Loire Valley, the Bay of Biscay and the Mediterranean into the heart of the Roman world."
He said it was believed the port dated to a period when the legions were "fighting and subduing the native tribes in western Britain".
"It's incredible to think that this is the place where the men who took part in the conquest would have arrived," he added.
The port is only the second from Roman Britain to be discovered and excavated after London.
Dr Mark Lewis, of the National Roman Legion Museum in Caerleon, said everything learned about Caerleon was "immediately of international significance".
"There were three legions permanently based in Britain for most of the Roman period, and for 200 years from AD 74, the Second Augustan Legion was based in Caerleon," he said.
"At any one time in the Roman Empire, there are about 30 legions and one of them was permanently based here.
'Spectacular'
"It is always incredibly important."
He said the port was on a major scale and the other buildings discovered were "spectacular".
"We've got a good idea of the shape and outline of the buildings," he said.
"What that has shown up is that what Peter is excavating is one of the largest complexes of Roman buildings in Britain.
"It ranks with some of the largest in Europe."
The dig's progress can be followed through a blog on the Council for British Archaeology's website.