Pembrokeshire council report reaction 'misleading'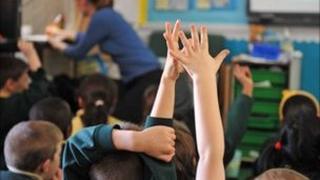 Senior Pembrokeshire council figures have been accused of making misleading statements in the wake of two critical inspection reports.
The Welsh Government accused them of trying to play down the reports' seriousness in some media interviews.
But council leader John Davies said some comments in a letter from ministers were factually inaccurate.
Education Minister Leighton Andrews said he did not rule out action against the council's children services.
The criticism is contained in a letter from the education and social services ministers to John Davies.
Both Pembrokeshire's education and safeguarding children services were heavily criticised in separate reports earlier this month.
Education services for children and young people were judged "unsatisfactory" by schools inspectorate Estyn, which said the "policies and systems for safeguarding children and young people are not fit for purpose".
'Play down'
A report exposing the council's failings over child abuse allegations was described as "deeply disturbing" by Wales' children's commissioner.
Keith Towler was reacting to an inquiry, started after a head teacher was convicted of abuse, cited "longstanding and systemic" problems.
Mr Davies said at the time: "We are not hiding from the matters raised in these reports and I want to assure parents that we are working tirelessly to ensure children are as safe as it is possible to make them.
"There are a number of administrative procedures and processes which require improvement, some of which we have already put in place. Others will take a little longer and we are working on them."
But Education Minister Leighton Andrews and Social Services Minister Gwenda Thomas have since written to him saying they continued to have "serious concerns" about the authority's approach to safeguarding children and young people.
The letter says that elected council members "appear to us to have taken steps to play down the seriousness of the issues".
'Lack of appreciation'
The ministers said they were concerned by statements by two councillors, including Mr Davies who was quoted telling BBC Radio Wales: "When you read the report, and it has been recognised, it is about the potential of harm, rather than actual harm."
They also raised concerns about councillor Huw George telling BBC Wales: "No harm came to these children, to say that it was luck is not right."
The statements pointed to a "lack of appreciation of the gravity of the position," the ministers said.
The letter said the authority was repeatedly asked to "review the management and handling of these cases to ensure that all the necessary action has been taken".
"Your authority has demonstrated a lack of rigour and urgency in undertaking this work, as evidenced by the fact that it was not until the inspectors started to point out some of the issues that your authority even realised that there was a problem," wrote the ministers.
"Even then, in one case inspectors had to refer back to your officers four times before all the action that was needed was taken."
'Worrying about reputation'
Mr Andrews said the reports raised serious issues, the council was slow to respond to a police request for information, and inaccurate statements were made by the authority about its response.
"I think if I was a parent in Pembrokeshire, I would want to be assured that the leader of Pembrokeshire council was sorting out his offices and ensuring that all the systems were properly in place rather than worrying about the reputation of Pembrokeshire council."
Mr Davies said he was "very concerned because I believe some of the comments in the letter are factually inaccurate".
"I intend to respond fully to the issues raised and will be willing to make public my response to the ministers once they have had the opportunity to consider its contents."
He later told BBC Wales he was concerned with how the Welsh Government dealt with the matter and accused ministers of turning it into a political and personal issue.
"In my view, this is no way to run a country, it's no way to deal with issues," said Mr Davies.
"We have got issues in Pembrokeshire, as far as safeguarding of children, and what I've witnessed as far as the commitment of those working... in schools and indeed within the main body of the council, we are very keen to put it right.
"We need to put it right. There's no excuse not to put it right."
Asked about accusations of playing down the reports' seriousness, he said the council had admitted deficiencies but had also "put a bit of context and, indeed, moderate some of the issues in relation that had been highlighted".