Welsh firms say young lack 'soft' and basic skills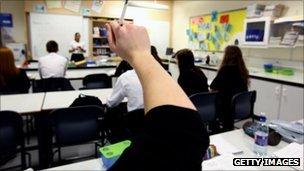 It is fairly common to hear employers complain about the skill levels of young people coming out of the education system.
One of those is Pullman Rail, which maintains rolling stock from its base in Cardiff.
The human resources director, Sarah Clark, says the firm wants to train its staff, but increasingly its training resembles education.
She said: "Regardless of whether they're 16, 18 or even sometimes 20, the skills they are lacking in numeracy and literacy are evident.
"Simple processes with times tables and also taking measurements are basic but they don't know how to do it and they're not confident in doing it."
There is now a big focus on basic skills. The Welsh Government is introducing a national reading test and similar plans for numeracy are being developed, among other policies.
However, it's not all about basic skills. There are also the so-called soft skills which many employers feel are lacking in young job-seekers.
Jane Davies is the traineeship director of ACT, a company in Cardiff that specialises in training teenagers who leave school after GCSEs.
She says areas like appropriate workplace behaviour, communication skills, timekeeping and appearance are just as important as the technical skills.
She said: "You can be the best bricklayer in the world but if you get sacked for turning up 10 minutes late on site for three days running, then that's a hopeless exercise."
When it comes to the technical skills, one of the main questions is whether colleges across Wales are providing the courses which give people the skills that employers in those areas actually need.
The principal of Bridgend College, Mark Jones, says he tries to lay on courses, or change modules, to fit in with their needs.
He added: "We're always looking for ways in which we can engage with employers but it's a hard job.
"Employers are very busy and they want the solutions on their desk at the right price, at the right quality and they want it now but you need five or 10 minutes with them in order to understand what their needs are.
"In some cases it's difficult finding that time."
Giving employers what they want is a huge and complex issue because there are so many needs and so many education providers.
"But it is critical for the future because companies need the right people to survive in the future and they're reliant on the education system to provide them."
Related Internet Links
The BBC is not responsible for the content of external sites.