Deadline set as rival Wrexham FC takeover bid submitted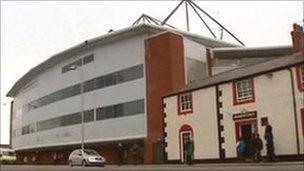 Wrexham Supporters' Trust (WST) has been given a two-week deadline to complete its takeover of the club, after a rival bid was submitted.
Wrexham FC said it wants the deal completed by 15 September, and confirmed WST still had first refusal.
No details of the rival bid have been released, but WST said it was confident it would complete the deal.
WST said it was awaiting information from the club, and the club denied it had ever withheld information.
In a statement, Wrexham FC directors said: "An alternative bidder has approached the club, with a view to purchasing the football club. However, the WST have been assured that they have first refusal.
"The takeover has been a longer than expected process, although, it appears that with all of the information being handed over by midday Friday of this week, the deal can finally come to conclusion.
"It is important to realise that time is of the essence and the directors would like to think that the WST board can complete their takeover by Friday, 16th September 2011, to ensure that no alternative bid has to be considered."
The statement said the club was passing on requested information to WST, including details of a £250,000 bond paid to the Football Conference and updated information on debtors and creditors.
It added: "At no time has anyone withheld information, with the intent of slowing up the takeover process."
Last week, members of WST voted unanimously to back plans to take control of the club, and the trust said it expected the deal to be completed "within a few weeks", subject to concluding negotiations and satisfying the demands of footballing authorities.
In response to Wrexham FC's statement, Spencer Harris, board director of WST, said: "We need the full information that we have requested from the club and we hope to meet with the club soon to finalise all the details.
"We're confident that if we're in full receipt of that information we can progress forward to community ownership, led by Wrexham Supporters' Trust."
Related Internet Links
The BBC is not responsible for the content of external sites.