Democracy fears over commissioners at Welsh councils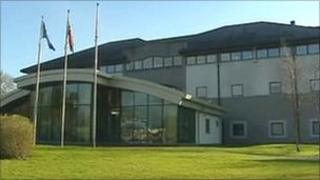 A local government expert has warned the Welsh Government it could undermine democracy by appointing too many commissioners to run council services.
The commissioners, unelected experts, are dispatched to local authorities when they run into trouble.
They are currently at Blaenau Gwent and Anglesey, with intervention in Pembrokeshire possible.
That compares with just one - Doncaster - among England's 152 principal local authorities.
Prof Tony Travers said intervention was made too readily but the Welsh Government said commissioners were appointed when "less direct" measures had failed.
Prof Travers, a director at the London School of Economics, told BBC Radio Wales: "There's no doubt that with commissioners in two councils in Wales and the possibility of intervention in a third, that does suggestion a degree of centralisation to Cardiff, which is paradoxical given that devolution was supposed to shift power away from London to Wales.
"The alarm bell that should gently ring here is that just because devolution has taken place to Cardiff doesn't mean that the government in Wales can themselves then centralise."
In March - after years of political infighting - Anglesey council became the first local authority in the UK to be stripped of all its executive functions.
There are now five commissioners running the authority, including a retired chief constable.
Tom Middlehurst, a former minister in what was then called the Welsh Assembly Government, and a former leader of Flintshire council, said there had to be concerns about democracy.
"I have got serious question marks about introducing people who don't have any democratic authority," he said.
"In Anglesey they have suspended the council, but I think that's a very serious action to take when you are dissembling a democratically elected council."
"However, in the circumstances the minister was faced with ongoing difficulties and he needed to try to put it right."
In July, Blaenau Gwent's local education authority became the first in Wales to go into special measures after a damning report by schools inspectorate Estyn found "systemic" management failures.
Two commissioners and two assistant commissioners have been appointed to run Blaenau Gwent's education services.
The team met for the first time on Thursday and BBC Wales has learned that Brynmawr and Ebbw Vale schools will be the first to be visited.
Just last week the Welsh Government did not rule out taking action against Pembrokeshire council's children's services, in the wake of two critical inspection reports.
Education services for children and young people were judged "unsatisfactory" by education watchdog Estyn, which said the "policies and systems for safeguarding children and young people are not fit for purpose".
A report exposing the council's failings over child abuse allegations was then described as "deeply disturbing" by Wales' children's commissioner, Keith Towler.
Welsh Liberal Democrat local government spokesman Peter Black accused the Welsh Government of "floundering around in the dark", trying to force councils to collaborate in ways "they don't need to and don't want to".
Mr Black, AM for South Wales West, said: "There are clearly cases where intervention is necessary, but there are also times, I think, where intervention is maybe the nuclear option, and ministers seem very ready to press that nuclear button when there are other ways they could deal with this particular issue."
'Grave situation'
A Welsh Government spokesperson said: "The step of appointing commissioners is only taken after less direct interventions have been tried and further action is considered necessary to deliver sustainable improvement.
"In Anglesey's case, the minister recognised that the council was working hard in difficult circumstances to deliver decent services but lacked political and managerial leadership and strategic direction.
"Without this, the council was unable to properly address the many strategic challenges facing the island. The minister's action was an attempt to rectify the grave situation on Anglesey and ultimately to protect local democracy."
The commissioners must consult council members regularly to ensure that their decisions take account of all relevant views and communicate openly with the electorate.