Hammond Heathrow £500m rail link plan consideration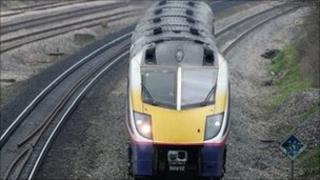 UK Transport Secretary Philip Hammond is said to be drawing up plans for a £500m rail scheme linking Wales with Heathrow Airport.
A proposed new spur from the Great Western main line would end the need for passengers to travel in to London before heading out to the airport.
The scheme, to include the west of England, would also connect with the proposed HS2 high-speed rail link.
The Department for Transport estimated it could cut 30 minutes off journeys.
The Sunday Times newspaper reported Mr Hammond was considering building a new railway station at Heathrow that would see up to four shuttle services per hour from Reading.
The new airport railway station would take shuttle connections from Reading, including passengers travelling from south Wales. But the newspaper suggests the airport hub could also take trains direct from Cardiff and Bristol.
It would also be a hub for the High Speed Two (HS2) rail link, it added.
The Department of Transport has declined to comment but Whitehall sources said the plan would:
Cut journey times by 30 minutes
Fit in with the proposals for the high speed rail network - subject to consultation - and if it goes ahead it will be an integrated transport hub at Heathrow
Allow rail travellers from Wales to pick up the high-speed line for journeys to the Midlands, the North and Scotland.
The UK coalition government has confirmed that a £1bn electrification of the main rail line between London and Cardiff, announced by the previous Labour government in 2009, is to go ahead.
The Welsh Government has called for the full electrification of the line to Swansea.
Cardiff council leader Rodney Berman said: "This is incredibly encouraging news. The link with Heathrow will help us attract new businesses to Cardiff and south Wales, opening up greater opportunities for inward investment.
"Travel links to major airports are a big consideration for businesses looking to relocate and if we can improve those links, it can only mean that we attract more quality companies to Cardiff."
Tony Miles, who writes for Modern Railways magazine, told BBC Radio Wales the scheme would involve creating about five miles of new railway, as well as amending some existing facilities, but that a direct service from Wales was unlikely.
He said: "It wouldn't be a through service from Cardiff and Swansea and so on. I think that would be fairly impractical.
"What I gather from proposals that have been talked about by business leaders is to have a shuttle service of some sort that picks up at Reading and goes straight into terminal five.
"A lot of people are probably getting off at Reading and getting the bus at the moment, which is a much more inconvenient way of doing it, particularly if you have a lot of luggage."
The proposed new airport link would not be possible until after the electrification of the south Wales mainline, he said.
The Sunday Times reported the Department of Transport as believing the link and airport transport hub could be open by 2021.