Jobs outlook in Wales 'second worst in UK', says survey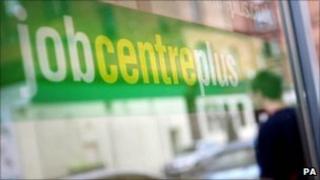 Business confidence in Wales has taken a knock with recruitment prospects now the second worst in the United Kingdom, according to a survey.
The research carried out by job agency Manpower suggests more employers are looking to shed staff or freeze numbers than those looking to hire workers.
The manufacturing sector in Wales is said to be suffering even more than in the north of England.
Business experts said they feared the situation could get even worse.
"Wales is behind the other regions when it comes to hiring by SMEs [small and medium enterprises], many of which are currently running on skeleton staff and are significantly less keen to recruit," said Manpower's operations manager for Wales, Andrew Shellard.
"The manufacturing sector in Wales is suffering even more than in the north, and the public sector has no hiring ambitions at all.
"As the economy slows down across the country, employers in Wales are now significantly less confident about taking on additional staff."
Biggest decline
The survey asked 2,100 UK employers, including hundreds in Wales, about whether they intended to hire workers in the coming three months.
The net employment outlook is calculated by subtracting those employers who plan to reduce staffing levels from those who plan to hire.
Results suggests the UK is split in half with the south hiring staff while the north, including Wales (with a result of -6%), is not.
The east of England has the most optimistic outlook of any region (11%), ahead of the East Midlands (+8%) and the south west (+7%).
Northern Ireland has the bleakest outlook at -10%.
But the figures show that since the first three months of the year, Wales has seen the biggest decline in hiring intentions of any UK region.
Economic downturn
However, the utilities sector in Wales - the only one showing a positive outlook in every quarter throughout the downturn - is planning to recruit.
Dr Kath Ringwald, from University of Glamorgan Business School, said she feared the situation could get worse before it got better.
"We've always anticipated that in this year, the effects of the economic downturn would really start to hit hard as public sector cuts begin to bite," she said.
"Not only is the public sector not hiring, it's spending less.
"There's a lot less job security for people in jobs that used to be considered rock solid - banking, insurance, working for councils.
"It's not just the people out of work, it's those uncertain about their prospects."
The Welsh Government said it did not wish to comment.
The most recent figures showed unemployment in Wales had risen in Wales to 122,000.
The jobless rate is 8.4%, which means Wales continues to have the highest percentage of the four UK nations, according to Labour Market Statistics.