Welsh mine tragedy: Coal price 'driving new pits'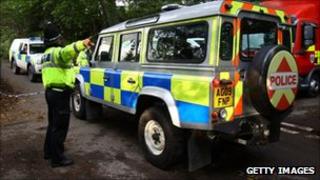 An expert says the rising price of coal is behind the reopening of small mines such as Gleision in the Swansea Valley, where four men died after it flooded.
Robert Murray Willis says the anthracite in such drift mines is high value as a dense smokeless fuel.
The former mining safety officer and engineering consultant said small mines tended not to have technological advances as they employed few people.
An inquiry has been announced into the deaths.
The miners would know of the potential dangers, but could only see as far as the rock in front of them, and not behind it, said Mr Murray Willis.
Mine rescue teams would have been faced with a "massive accumulation" of water, he told BBC Radio Wales.
The reason such mines were being reopened was because the price of coal is rising.
"Anthracite is the Welsh gold. It is smokeless, it is very dense and it is very environmentally friendly, as coals go. It has high value."
Mining is "done for profit... whether it's gold or coal", he said.
"That's why these small mines have started up again, the price has gone up."
Mr Willis said he had experience of working in mines in California, which were similar to the Gleision site.
"It was a timber square set up mine, similar to this mine.
'Small and cramped'
"It was larger in size, but the old workings were all very small... and very cramped."
Speaking of what the rescuers faced he said.
"The hazard which the mine rescue teams are faced with would have been a massive accumulation of water, black water like mud."
Despite former workings being charted there was always a danger of the unknown in mining, he added.
"They would know where the old mine workings were, they would know what the dangers were.
"They would know there's the potential for an accumulation of water, but don't know where it is, because you can only see as far as the rock in front of you, and not behind it."