Care providers' interest in Wales' Southern Cross homes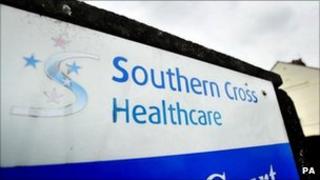 Four providers have shown an interest in taking over the 33 care homes owned by the stricken Southern Cross group in Wales, the Welsh Government has said.
Southern Cross is being restructured after running up large debts.
Social Services Minister Gwenda Thomas said a number of steps must be completed before homes can be transferred.
Prospective providers must register with the Care and Social Services Inspectorate Wales.
The minister said the move was vital to ensure they can deliver high quality sustainable services and demonstrate their financial viability.
The Welsh Government said it would not bail out the struggling care home company when it emerged it had run into difficulty in June.
New providers
Mrs Thomas said: "Over the summer officials have kept in close contact with Southern Cross' senior management.
"We have been told that Southern Cross' landlords have been working with four prospective providers who between them have now expressed an interest in operating all of the 33 care homes in Wales."
She said agreements needed to be signed between the company and the new providers to transfer the business and its assets, and staff must be consulted.
"We have been told these steps are underway," she said.
She added councils and local health boards had prepared contingency plans.