Andrew RT Davies tackles first minister on NHS spending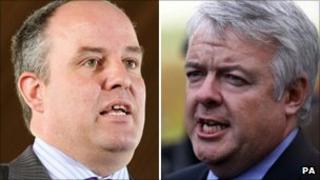 The first minister has clashed with the new leader of the opposition over health spending.
Carwyn Jones and Conservative assembly leader Andrew RT Davies locked horns during the first assembly session of the term on Tuesday.
Making his question time debut, Mr Davies said consultants working for the government had drafted proposals for cuts.
Mr Jones said none of the cuts had taken place.
Mr Davies - elected as Conservative assembly leader in July - said consultants working for the Welsh Government had drawn up plans to cut 1,200 nurses, freeze recruitment and close some NHS facilities.
The first minister denied the work by consultants McKinsey was carried out on behalf of the government.
He said if the Tories gained power in Wales, they would follow the same health plans as the Conservatives at Westminster.
He said: "One thing I can say to the leader of the opposition is this - we have nothing to learn from his colleagues in London, and we know that whatever they'll do, he'll do."
Mr Davies urged the first minister to promise cuts would not happen and called for greater transparency about Labour's plans for the NHS in Wales.
'Cutting jobs'
He said: "In the discussions I have had with health organisations, there is a freeze on NHS positions, there is cutting of NHS jobs within the Welsh NHS, and they are replicating the work undertaken on the orders of your health minister."
The first minister was also challenged on yesterday's announcement on five new sector-specific enterprise zones for Wales by the Liberal Democrat leader Kirsty Williams.
She said there needed to be more "meat on the bones" of the plans and questioned what help would be made available for other sectors such as life sciences and creative industries.
Mr Jones told her that work was still ongoing on the plans, but said he was taking a more "targeted" approach than in England, and denied that Wales would have stood a better chance of winning a new Jaguar Land Rover engine plant had the zones been announced earlier.
Plaid Cymru leader Ieuan Wyn Jones called on the government to divert greater resources to economic development, warning the Welsh economy was in "desperate trouble".
Mr Jones said it was important to be flexible when looking at budgets, but pointed to a number of proposed programmes to help the economy, including a Welsh jobs fund.