Fire chiefs criticise plan to scrap maritime 999 team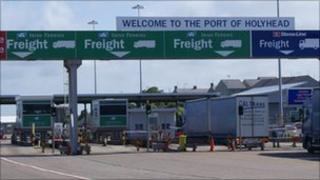 A plan to discontinue a 999 team set up to tackle fires on board ships at sea has been criticised by fire chiefs.
They say only a relatively small sum of money will be saved while public safety could be jeopardised.
The team is paid for by the Maritime and Coastguard Agency (MCA), which is facing budget cuts.
The arrangement is due to come to an end in December and after that the crew of individual vessels will be expected to deal with any incidents.
The parliamentary under secretary of state for transport, Mike Penning, said the review of the service was carried out as part of the UK Government's Spending Review.
It was set out by the UK Government last October and has seen a number of coastguard stations under threat of closure.
The coast of north and west Wales coast is covered by fire fighters from North Wales Fire and Rescue Service and Mid and West Fire and Rescue Service - although they could be called out to anywhere in the UK.
Paul Claydon, the assistant chief fire officer for north Wales, said the relatively low call-out rate in the past could not be used as a guide to the future.
"More cruise liners are coming into the port of Holyhead, and the port itself is being developed," he said.
The Chief Fire Officers Association (CFOA) is also campaigning for the service to remain, and its president Lee Howell said he is "extremely concerned" about the situation.
"We are a nation of seafarers and to end an arrangement that has successfully provided a co-ordinated approach to fires on board ships off our coast is shortsighted and may put the public at risk.
"In the event of a major fire or emergency at sea, it is essential that we have a robust and effective response.
"Ending this arrangement will save a small amount of money but will leave a gap in our ability to protect people on board ships," he said.
The Department for Transport must reconsider its position on the issue, he added.
A spokesman for one ferry company which uses the Irish Sea, Stena Line, said: "Stena Line would consider any withdrawal of essential service that potentially could affect safety at sea to be a retrograde step."
The parliamentary under secretary of state for transport, Mike Penning, said: "Since it was established in 2006, the Maritime Incident Response Group (MIRG) has responded to just six fire incidents and has not had a significant impact on the outcome of any of those."
The consultation with the fire and rescue services which provide the MIRG capability has been ongoing since February.
"Feedback from the shipping industry suggests that the most valued service provided by the MIRG is their initial fire assessment advice," he added.
Initially it had been hoped that the fire and rescue services which provide the current MIRG capability would be able to provide such a service "but agreement on this has not been possible", he said.
So when the group comes to an end on 14 December "alternative arrangements for such a fire assessment and advice service using commercial salvors", will be set up.
Under the new arrangement "professional personnel" will be deployed to an incident to make an assessment.
"They will then provide advice on the best course of action and - as in many cases today - reassure port authorities that a ship can be safely accepted into a port so that shore based fire fighters can attend to a fire.
"This approach recognises that international legislation already requires all ships' crews are trained and equipped to fight fires on ships,"he added.