Fracking fears over gas drilling in Vale of Glamorgan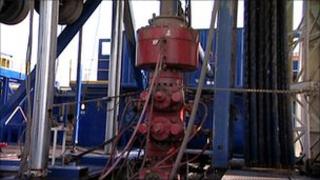 Opponents of a plan to drill and test for gas in the Vale of Glamorgan fear it could result in a controversial method known as "fracking".
Supporters of the Vale Says No campaign want councillors to reject the proposal for Llandow at a meeting on Thursday.
Fracking involves the high-pressure fracturing of rocks such as shale with a mixture of water, sand and chemicals.
But Gerwyn Williams, the man behind the plan, said the aim is to search for conventional sources of gas, not shale.
Shale gas is methane trapped in rocks deep below the ground, and can be extracted by a combination of horizontal drilling and fracking.
The technique is widespread in parts of the United States, but fracking has proved controversial on environmental grounds, with claims that it has resulted in sickness and the pollution of water supplies.
Untapped resources
Mr Williams, a former miner who chairs the UK Onshore Gas Group, withdrew an earlier plan to drill at Llandow after discovery of a home close to the proposed drilling site.
There was also wider concerns from local residents, who seized on a reference to shale gas in the application's supporting information.
Campaigners in the Vale of Glamorgan are calling for a nationwide moratorium on the process of fracking while the potential risks in the UK are properly assessed.
In June, energy company Cuadrilla suspended fracking operations near Blackpool over fears of a link to two minor earthquakes in the area.
But Mr Williams - who has carried out other test drills across south Wales without objection - told BBC Radio Wales's Eye On Wales that fracking is still a long way off and not planned for the proposed test site on the Llandow industrial estate.
Speaking to the programme, he said: "We're at the exploration stage at the moment. We've no intention of fracking in the near future.
"The application we've got in at Llandow is not for shale gas - it's for conventional (gas). We're going to take samples and we're going to test those samples."
On Monday, documents for the planning application were published ahead of Thursday's meeting - and includes mention of sampling looking to the future potential of shale gas capture.
It says: "The application is made by Coastal Oil and Gas Limited for the purpose (as defined in their submissions) of 'drilling to take core samples of limestone shales with a view to future possible capture and supply of shale gas (unconventional gas) as a clean energy supply and also to penetrate the Upper Devonian measures to test for the presence of conventional gas'".
Tourism fears
Louise Evans, founder of the Vale Says No campaign, fears for the future of her family's caravan park 800m from the drilling site if gas is found in significant quantities.
"If it were to go to full-scale gas drilling our business probably wouldn't survive," she said.
"The area would become a gas drilling area and not an area of tourism."
"We've got the National Eisteddfod here next year, and the council is spending a lot of money raising the profile of the Vale," she added.
"To have that blighted with gas drilling would be a real shame."
In July, Vale of Glamorgan council leader Gordon Kemp said he believed that applications for test drilling should be dealt with at national level by the Welsh Government because the issue relates to a much wider area than local authority borders.
But Andy Chyba, chair of the Bridgend Green Party, believes the planning committee meeting on Thursday gives Vale councillors an opportunity to force the issue further up the political agenda.
"They won't necessarily decline it, but I'm hoping that they will refuse to take the decision and try to insist that the Welsh Government call it in," he said.
"That would be cause for huge celebration. Hopefully it will re-focus minds in other authorities where this is happening… give them that get-out clause of refusing to take these on."
Eye on Wales, broadcast on Sunday, is available on the BBC iPlayer.