Welsh mine deaths: Hundreds at funeral of Garry Jenkins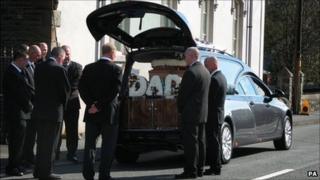 Over 400 mourners have attended the funeral of one of the miners who died when a colliery in Swansea Valley flooded
Garry Jenkins, 39, was among four men killed when water filled Gleision Colliery near Pontardawe last month.
MP Peter Hain, actor Steven Meo and former Wales rugby coach Clive Rowlands were among those at Beulah Chapel, Lower Cwmtwrch.
It was the third of the miners' funerals.
Neath MP Mr Hain said: "This was a service of emotion and passion, and at the same time comradeship and support, as this former mining community, with still a lot of mining in it, has wrapped its arms around the family and memory of Garry Jenkins in a very moving way.
"There was a lot of family here expressing undoubtedly their strong emotions and that was very evident in seeing everybody and being with everybody here today."
Pallbearers
Mr Jenkins has been described by his family as a "great dad" who was "special in every way".
The coffin, covered with white flowers and wreaths spelling the tributes Dad and Brother, was carried into the chapel by six pallbearers as music played.
Mr Jenkins' family wept as they followed the coffin slowly inside.
Mourners who were unable to fit into the chapel waited outside as the service of almost an hour was conducted by the Reverend Ryan Thomas.
A statement from his family after the tragedy on 15 September read: "We wish to say that Garry was special in every way.
"He was always happy, hard-working and never without a smile on his face. He would help anybody he could in any way.
'Great dad'
"He lived life to the full enjoying his caravanning and following his family and supporting them in their motocross racing. His other passion was playing darts with his good mates at his local."
His son Alex had said: "I am going to miss him, he will always be loved. Dad was a great darter and a motorbike rider but most of all he was a great dad."
Mr Jenkins was killed at the colliery along with workmates Philip Hill, who was 44, Charles Breslin, 62, and David Powell, 50.
The funerals of Mr Hill and Mr Breslin took place last week. Mr Powell's funeral is due to take place next Friday.
The inquest into the deaths was opened and adjourned on Tuesday at the Guildhall in Swansea. Initial test results showed the men died following "exposure to flooded pit contents under pressure".
A joint police and Health and Safety Executive investigation into the disaster is continuing.
Meanwhile, a disaster fund launched to help the families now stands at about £300,000.