TA recruits expect to go to Afghanistan war, says chief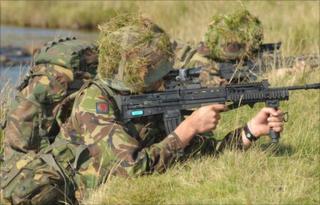 Part-time soldiers now expect to go to war when they join the service, says the commander of The Royal Welsh TA battalion.
Lt Col Jeff Cleverly says he has seen a shift in the reasons why people sign up in the 10 years since the start of the war in Afghanistan.
A "battle school" in the Brecon Beacons is being used to prepare infantry for deployment to Helmand Province.
About 10% of army personnel in Afghanistan are from the TA.
"We've had a number of recruits who've joined in the last year, wanting to go to Afghanistan, and most of them probably will in the next few years," says Col Cleverly.
Live fire training
He is the commander of The 3rd Battalion The Royal Welsh which is the regiment's territorial or reserve battalion.
About 80 of the 427 TA soldiers serving with the battalion have been to Afghanistan over the last five years.
Training at Sennybridge in Powys includes battlefield fitness, marksmanship and medical training, before culminating in a live fire tactical training programme.
Col Cleverly said: "TA soldiers bring a lot of experience. They're a little bit older, more mature and they learn more quickly."
Chris Butcher from Cardiff has served with The 3rd Battalion The Royal Welsh for 24 years.
"When I joined it was different to what it is today, there was a lot of difference.
"I didn't expect to go to a war zone. Training has had to change, it's got to adapt to the theatre at that time.
"I think everything is now orientated around Afghanistan. That is what they're recruiting for at the end of the day because that is the scenario at the moment."
'Mum is supportive'
Thomas Batt from Barry, who has been in the TA for a year, has a civilian job in McDonalds as a trainer.
"I decided to join the TA because I wanted to join the army and decided to get more experience before going on for a commission," he said.
"Obviously it's tough out there but it's what I want to do.
"My mum is supportive but I know she'd rather I went into a safer job."
TA soldiers are required to do two weeks annual continuous training on top of a number of weekends and local evening sessions throughout the year.
Once a deployment to Afghanistan has been confirmed, the TA will be asked for volunteers to mobilise for a 12-month period.
That will include additional training with the regular Army, followed by a six-month deployment.
Capt Edward Matts who serves with the battalion's Charlie Company, based in Pontypridd, has been helping to train recruits at the battle school.
"If you go back a few years ago there would be less people who were in a state ready to deploy in Afghanistan.
"Now we have guys coming through the door who are wanting to go out to Afghanistan and that is their reason for joining the TA."
Capt Matts was a member of the Officer Training Corps at Cardiff University before joining the TA. As a civilian he works for a defence company in Newport.
"I have been to Afghanistan on Operation Herrick, training the Afghan National Army," he said.
'Rewarding'
"Being an officer and, as all my soldiers were going out there, I thought I needed to go out there as well."
He was based near the border with Pakistan in 2009.
"It was a winter tour, sometimes waist-deep in snow, which I wasn't expecting in Afghanistan," he said.
"I was doing a job that the TA were specifically doing at the time, training the Afghan National Army.
"It was really rewarding to know that you've helped in building up the Afghan army ready for when we withdraw."
The UK government's defence review means while the regular army is down-sizing, the TA looks set to grow over the coming years.
Col Cleverly says he believes 3rd Battalion the Royal Welsh will need to recruit another 200 soldiers to meet the targets.