Black Eyed Peas out of Cardiff Michael Jackson concert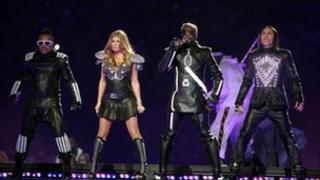 The Black Eyed Peas will not be taking part in the Michael Jackson tribute concert in Cardiff at the weekend.
Event organisers said the cancellation was due to "unavoidable circumstances".
The singer's sister La Toya and the Jackson Brothers, Christina Aguilera, Cee Lo Green and Gladys Knight and Smokey Robinson are amongst the stars taking part.
BBC Radio 1 presenter Fearne Cotton will co-host the Millennium Stadium concert with Hollywood star Jamie Foxx.
"It is with regret that we announce the removal of Black Eyed Peas from the Michael Forever bill, but I look forward to a great night with other earth shattering artists," said Chris Hunt, the chief executive officer of Global Live Events.
UK artists taking part are Leona Lewis, Alexandra Burke, JLS and Diversity.
Ne-Yo, Pixie Lott, Alien Ant Farm, Jennifer Hudson and Craig David, the next generation of Jacksons, and 3T will also perform while Beyoncé will give a video contribution.
Michael Jackson died aged 50 in June, 2009 while rehearsing for his This Is It tour.
The tribute concert in Cardiff will raise money for three charities including the Los Angeles-based Aids Project.
On Tuesday his brothers Marlon, Tito and Jackie Jackson, who will be taking part in the concert with their sister La Toya, defended the decision to hold the event while the trial of his doctor is under way in the US.
However, Janet Jackson will not be attending the concert.
The singer said she would find it "difficult" because it coincides with the trial of the singer's doctor.
The event is also opposed by brothers Randy and Jermaine and some fans say the timing in inappropriate.
Prosecutors at the trial in Los Angeles claim Dr Conrad Murray caused the pop star's death by giving him a powerful anaesthetic, Propofol, to help him sleep.
Dr Murray denies involuntary manslaughter.