Principality: Business as usual after debt downgrade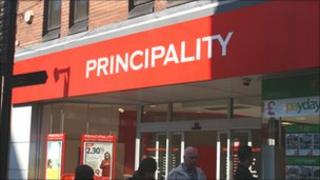 The Principality Building Society says it is business as usual, despite influential credit rating agency Moody's downgrading its debt status.
The agency has cut the credit ratings of 12 UK financial firms, including seven building societies.
The Cardiff-based Principality is the UK's seventh largest building society.
Principality's stand-alone financial rating has actually been increased by Moody's and the society said the change would have "little impact".
Moody's believes the UK government is now unlikely to bail out smaller financial institutions if they get into trouble.
The Principality stressed that Moody's had upgraded the strength of its financial position to reflect an improving credit profile.
Guy Thomas, group finance director at the Principality, said: "Moody's decision to remove the extraordinary notches of state support is technical and has been expected for some time".
"It does not represent any deterioration in financial strength and it is business as usual across the sector," he added.
Mr Thomas said the Principality's half-year results had been strong, which "showed good levels of liquidity, profitability and a loan book that is 100 per cent funded by retail savings deposits."
The Principality celebrated its 150th anniversary in 2010, and its website says it has 52 branches across Wales and the borders, with 500,000 members.
The Building Societies Association (BSA) said it was not surprised by the downgrades, which it described as a "normalisation" that had "been expected for some time".
The ratings from agencies such as Moody's, Standard & Poor's and Fitch are meant to indicate the creditworthiness of a company, financial institution or even a country.
The scores then affect the amount of interest paid if they borrow money.
In a statement, Moody's explained the thinking behind the change in ratings.
"The downgrades have been caused by Moody's reassessment of the support environment in the UK which has resulted in the removal of systemic support for seven smaller institutions and the reduction of systemic support... for five larger, more systemically important financial institutions."