Rugby World Cup: Barrie Partridge's ashes for Eden Park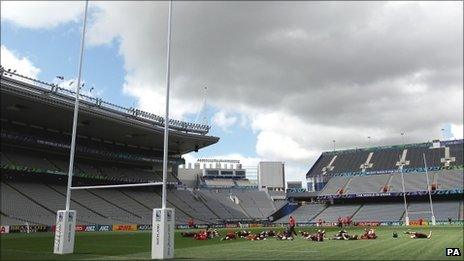 A Wales fan's son will sprinkle his father's ashes on the pitch before the Rugby World Cup semi-final.
Barrie-John Partridge wants the ashes of his father, Barrie, 59, to be a good luck charm for Wales at Eden Park.
Mr Partridge senior emigrated to New Zealand from Gilfach Goch, Rhondda Cynon Taf, in 1986 but stayed loyal to Wales, even naming his son after Wales and Lions legend Barry John.
He died at Waitakere Hospital in Auckland on 30 July.
Mr Partridge, a barrister, said: "It's going to be a tough thing to do, but he was my best friend and this is the last thing we can do together.
"I made a promise I would one day leave a part of him at Eden Park and decided I'd do it now, so he would be here in spirit.
"He was a real character, loud and charismatic, and he always talked up Wales' chances at every World Cup.
"After three heart surgeries and several falls he was trying desperately to hold on long enough to see the cup out, but it wasn't to be.
"I know he would have been over the moon with the team's performance and I'll feel him with me on Saturday.
"He'll be there in a box in my backpack, but I'll have a pill bottle full of ashes in my pocket ready to sprinkle."
Mr Patridge said his father played one match for Pontypridd as tighthead prop before moving to Jersey.
"Dad took me to see Wales v Tonga during the World Cup in 1987, when I was six, and we made a pact to go to every cup thereafter.
"He lived for rugby and was obsessed with the Auckland Welsh Red Dragons, as club secretary, up to his death."