Kenya arrests: Cardiff father claims son 'brainwashed'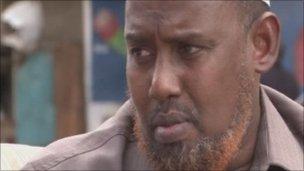 BBC: Why did you travel to Kenya?
Mr Abdallah: The reason why I left for Kenya was because I have realised my son was misled into believing that he was fighting in a holy war. He was brainwashed and taken away from us and he was told that he was going to fight a holy war in Somalia. So I travelled to Nairobi in an effort to save him.
So what happened when you arrived In Nairobi, where did you begin from?
Fortunately for me, I met a former Kenyan member of parliament on the plane to Nairobi. He linked me up with the Kenyan anti-terrorism police and I passed to them the pictures of my son as well as details including his date of birth. With God's help the authorities managed to arrest my son near the Somali-Kenya border at Lamu. They have circulated his photos at border points. He was arrested just 5km from the Somali border.
Was he accompanied by anyone else?
He was accompanied by a Pakistani who is also British born. He was his friend from Britain.
Since he was arrested, did you manage to meet him in Nairobi?
Yes, I met him at the anti-terrorism offices after meeting with the authorities this morning. He seemed very happy. He greeted me and asked me how I was. He also greeted his uncle who was accompanying me. Kenyan authorities are saying that they will start on his journey back to Britain tonight, leaving at 7 o'clock.
When you saw him, was he handcuffed?
No, he was not handcuffed. He was walking with the Kenyan officers. However, I noticed that he was wearing dusty clothes.
Have you met anyone else, for example the British High Commission in Kenya, anyone who is following up on this issue?
Yes. I met an official from the Commission, who also spoke to him yesterday and told me that his air ticket has expired and as a result I had to add an extra 350 dollars. God willing I am hoping he will arrive in Britain tomorrow morning.
He is over 18 years old; were there any charges levelled against him?
The Kenyan authorities are saying they cannot take him to court since he has not committed any offence in Kenya and also since he was heading to Somalia. So they said they will send him back to Britain since he did not train in Somalia. I don't know what he will be charged with in Britain but I was told he will be handed over to the British police. I am not allowed to accompany him.