Super Furry Animals' Gruff Rhys wins Welsh Music Prize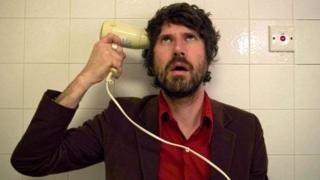 Gruff Rhys, frontman of the Super Furry Animals, has won the first Welsh Music Prize.
His third solo album, Hotel Shampoo, was based on his experience of finding free toiletries in hotels when he first began touring.
"I'm really surprised," said Rhys. "It was a really strong list of albums and it could have gone to anyone."
Radio I DJ Huw Stephens said the prize celebrated some of the "amazing albums" made in Wales by Welsh artists.
Rhys was unveiled as winner during the Swn (Sound) festival in Cardiff, with Hotel Shampoo topping a shortlist of 12 albums released between last August and this July.
Dog kennel
Rhys explained the inspiration for his prize-winning album.
"When I started touring, I was new to hotels. I started keeping all the free stuff because I couldn't believe it was free
"Cut to 15 years later and I had too many of them, so I built my own hotel, called Hotel Shampoo, which is about the size of a dog kennel. I sat in it and wrote this album.
"I think I put everything into the song writing with this record. I thought I would make an album of piano ballads."
'Making connections'
Haverfordwest-born Rhys, 41, has fronted the Super Furry Animals since they were formed in Cardiff in the early 1990s.
As well as being contemporaries of Manic Street Preachers and Catatonia, an earlier band line-up included Hollywood actor Rhys Ifans.
Speaking at the award ceremony, DJ Stephens said: "People need to be introduced to new music that's on their doorstep sometimes.
"Welsh music has come a long way in terms of getting itself out there and making connections with the world.
'Tough'
"So hopefully it's just another way of getting new music out to people."
The judging panel for the prize included industry producers and critics and took several attempts to a reach winner.
Among them was Radio Wales DJ Bethan Elfyn who said: "It was tough because I know all the people involved.
"I really respect what they do and they all created really amazing, crafted albums. That in itself is an achievement today."
Swn's weekend line-up continues with performances from Welsh artists, both chart veterans and relative unknowns.