Identity theft hits Treat Trust Wales charity founder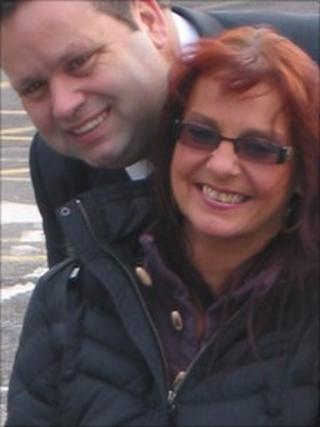 The founder of a multi-million pound health charity says she is afraid its reputation could suffer after she became a victim of identity theft.
Mel Davies, from Pontardawe, is raising £10m to build a rehabilitation centre at Morriston Hospital, Swansea.
She said she has had a string of letters about new direct debits from bank accounts she knows nothing about.
Police, businesses and security consultants will gather in Cardiff for a summit on e-crime later.
Mrs Davies runs the Treat Trust Wales charity with husband Mike, the surgeon who treated her when she was paralysed in a motorcycle accident more than 30 years ago.
Unknown accounts
She said the suspicious letters began arriving in mid October.
"A couple of weeks ago we had letters about direct debits and new accounts popping through the door," she said.
"They would say 'thank you for opening this account with us'.
"I was horrified - I thought I was looking at someone else's accounts, that I'd invaded someone else's privacy."
The letters referred to direct debits for a mobile phone, an insurance policy, and a purchase from a computer store, quoting details of bank accounts in West Yorkshire and Leicestershire.
Mrs Davies said she was baffled as to how her details were used and was worried about the potential impact on her fundraising.
"I haven't lost any money but it takes up so much of our time to sort out," she said.
"We're a multi-million pound charity with high-powered supporters like Michael Sheen - the last thing we want is for our charity's good name to be sullied."
The couple alerted the police and contacted the banks named in the letters who assured them they were not being held liable for the transactions.
But Mrs Davies said she would be wary in future.
"Every time we go out, our name is going to be looked at very closely when we pay for things," she said.
Staying vigilant
"Maybe that's a good thing, but I'm still afraid and upset that someone picked my name."
The scale of electronic crime and identity theft in Wales will be discussed at a summit in Cardiff on Wednesday.
More than 500 people are expected to attend the event organised by e-Crime Wales, a task force of police, academics and government officials.
In March, the partnership warned that e-crime was costing the Welsh economy nearly £1bn a year.
They will be told that people aged between 25 and 44 are most at risk, while the main targets included company directors, graduates, young single people in rented accommodation, and well-off pensioners.
Assistant Chief Constable Matt Jukes of South Wales Police, who leads the police's response to online crime in Wales, said the force wanted to reach out to vulnerable groups.
"There's an enormous amount you can do yourself at no cost or low cost to protect yourself," he said.
"All the systems available to people carry some security features. It's really about making best use of what's there first."
ACC Jukes said internet users should consider investing in security software to get added protection.
He advised younger web users to think about what they do online that might create other vulnerabilities.
"We 're all very comfortable now, or many of us, to put online dates of birth, pets' names, family details on our Facebook accounts or elsewhere," he said.
"Those are exactly the security questions which the bank then asks you."