Michael Sheen unveils plaque at Richard Burton house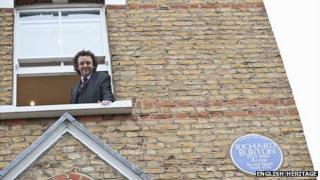 If walls could talk, then few would have a more interesting tale to tell than those at 6 Lyndhurst Road, Hampstead NW3, the London home of Richard Burton and his first wife, fellow Welsh thespian Sybil Williams.
While countless thousands of column inches were devoted to Burton's two marriages to Elizabeth Taylor between 1964 and 1976, relatively little has been written about his equally-tempestuous relationship with the girl from Tylorstown, Rhondda.
But now this chapter of Burton's life is to be revisited, as English Heritage are dedicating a blue plaque at the house which saw Burton transformed from ambitious newcomer in 1949 to millionaire superstar forced to flee to tax exile in Switzerland by 1957.
Fittingly, the plaque has been unveiled by fellow Port Talbot actor Michael Sheen, currently reprising one of Burton's favourite roles, Hamlet, at the Young Vic.
During his time on Lyndhurst Road in the early 1950s, Burton wrestled with his conflicting loves for the stage and silver screen.
But Sheen is proud to be following in at least some of Burton's footsteps.
"It has always been an honour for me to be associated with the wizard of wild Welsh magic that was Richard Burton," he said.
"And it gives me great pleasure to help mark one of the spots from where he cast his brooding spells over London and the world."
Tensions
Burton and Williams met in 1948, on the set of The Last Days of Dolwyn, just his second leading role. They married a year later and moved into their London home.
But while Sybil's acting career stalled, Burton's continued to grow from strength to strength, causing tensions from the outset.
Spending more and more time in Hollywood gave him the opportunity to begin the showbiz lifestyle which would characterise his popular image for the next three decades.
Burton and Williams moved out of Lyndhurst Road to Switzerland in 1957, shortly before the birth of their first daughter, Kate.
'Affairs'
But while the move into exile from 90% income tax should have been a fresh start, Gethin Matthews - author of Seren Cymru, the only Welsh language biography of Richard Burton - believes that the marriage was doomed as soon as Elizabeth Taylor came onto the horizon in the early 1960s.
"He had a certain amount of latitude to carry on with his affairs," said Mr Matthews.
"We can only speculate as to how much Sybil realised what was going on: it's possible that she was blinded by her devotion to Richard, or perhaps she chose not to find out what he was up to.
"All you can say for certain was that she was utterly besotted by Richard; sacrificing her career to try and advance his as far as possible."
All the evidence suggested that they made a very good couple, said Mr Matthews.
But Burton's move to Switzerland removed him from the social network which had supported him in his rise to stardom. Then events took their toll.
"All the evidence suggests that the autism of their second child Jessica led to a lot of guilt and grief, which put further strain on the marriage," said Mr Matthews.
"But ultimately it appears that they split simply because Richard's love for Liz Taylor engulfed everything else in his life… Sybil just couldn't compete any longer."
They divorced in 1963, following an unsuccessful attempt at reconciliation.
'Diamonds and glamour'
While Burton married Taylor in 1964, perhaps Sybil Williams found even greater happiness; going on to open a successful nightclub and restaurant in New York, remarrying and having a third daughter.
"The 1950s and Richard's marriage to Sybil are the part of his life which has been repeatedly overlooked," said Mr Matthews.
"People tend to get hooked on the diamonds and glamour of the Liz Taylor years, but there's another reason.
"Despite the attempts of numerous biographers, Sybil's never agreed to talk about her first marriage; partly because she's always maintained enormous dignity, but possibly more so because it was simply too painful.
"In some ways that too is a real shame, as without Sybil's support while he found his way in the 40s and 50s, then who can tell whether there would even have been the diamonds and glamour of the Taylor years?"