Institute of Directors plea on Welsh roads and rail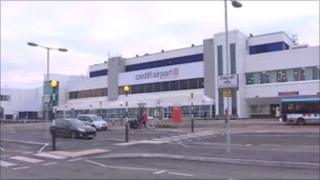 Business leaders have called for improved road and air links to Wales.
A survey of members of the Institute of Directors (IoD) said they wanted improvements made to the M4 and major road links to north Wales.
They said Cardiff Airport needed more connecting flights and help to upgrade access roads.
The IoD said businesses were not happy with the current state of the UK's infrastructure, but welcomed plans for an air link between Wales and China.
Answers from more than 1,200 IoD members across the UK revealed they believed a possible Midlands high-speed rail link - known as HS2 - should be a long way down the list of business transport priorities.
A significant number thought the line would represent poor value for money. The UK government has been consulting on the project.
IoD Wales director Robert Lloyd Griffiths said: "Across Wales, our members are pleased to see the approval of electrification of the rail line from London to Cardiff as a first step in improving transport links, although it would still be good to have this going as far as Swansea.
"However, the M4 and major road links to north Wales still need to be improved at busy junctions - congestion must be relieved and accident figures reduced.
"Additionally, Cardiff Airport needs help and support to relieve the pressure on Heathrow and the M4, with better access roads and more connecting flights.
"Only this week First Minister Carwyn Jones said he was looking to establish a direct air route from China to Wales, and I'd back that all the way."
Simon Walker, the IoD's director general, said good transport infrastructure was crucial to its members up and down the country.
"Businesses are not happy with the current state of the UK's infrastructure, but our survey of IoD members shows that directors want to see improvements to existing roads and rail services above all.
"In straightened times, choices will have to be made between some improvements to existing rail lines and a new high speed line, and we want to see the government take the business view seriously."
The IoD poll asked 1,245 of its members for their views on the existing state of the UK's transport infrastructure and their priorities for new investment.