Prince Charles is new university's royal patron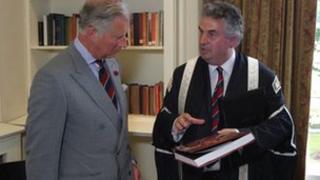 The Prince of Wales has agreed to serve as royal patron of the new university formed by the merger of Trinity St David, Swansea Metropolitan and the University of Wales (UoW).
He is chancellor of the troubled UoW, which has been tarnished by recent scandals exposed by BBC Wales.
Vice-chancellor Prof Medwin Hughes said it was an honour and privilege to have the prince's support.
The UoW is effectively being abolished in the merger and will be rebranded.
Future students will receive University of Wales: Trinity Saint David college degrees instead of University of Wales ones.
It is expected that the three institutions will have merged by 1 August next year.
Dr Geoffrey Thomas, chair of the Trinity Saint David council said: "At this historic juncture for the University of Wales: Trinity Saint David, the university council acknowledges the commitment that His Royal Highness The Prince of Wales has made in becoming our royal patron.
"As the two oldest charters in Wales come together, the council looks forward to supporting strategic change which will deliver for the nation."
'Let Wales down'
Dr Gerry Lewis, chairman of Swansea Metropolitan University's board of governors, said he hoped the university would make significant contributions to the economy and culture of Wales in the future.
The UoW has faced a torrid period, with Education Minister Leighton Andrews claiming it had "let Wales down" and should be given a "decent burial".
An investigation by BBC Wales' Week In Week Out programme found overseas students were being made offers to cheat their way to UoW-validated degrees and UK graduate work visas.
The heads of some Welsh universities said they believed the UoW title should be scrapped.