Sir Terry Matthews' 'boot camp' seeks business talent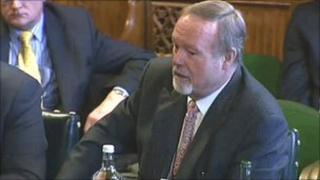 Recruitment is starting for a graduate "boot camp" launched by Welsh business tycoon Sir Terry Matthews.
Based in Newport and called Alacrity, the project aims to develop entrepreneurs of the future.
Ten graduates will be selected each year to develop products in information technology.
The Welsh government is providing around half of the £5.6m five-year budget, with the rest coming from wealthy donors.
Recruitment has opened via the website of the Alacrity Foundation charity for graduates in science, computer science, engineering and business.
Open to young graduates from anywhere in the UK, successful candidates will be based in Alacrity's offices next to the university campus on Newport's riverfront for nine to 12 months.
The students are to live together somewhere in Newport for the year and to bounce ideas off each other and their mentors.
Each will have the target of setting up a company based in Wales by the end of the year.
The companies will be 25% owned by the student, 25% by Alacrity and 50% by venture capitalists.
'Demand-driven'
The project backers say it will differ from efforts by universities to spin out successful companies in that it will specifically target services businesses want.
Simon Gibson, the founding trustee of Alacrity, said: "The path to more success for the UK economy will be through growth in innovative new start-up companies headquartered in our economy.
"I believe the demand-driven model provided by the Alacrity Foundation gives young entrepreneurs a chance of a lifetime to create sustainable businesses in the information and communications sector."
Alacrity chairman Lord Currie added that the foundation could become a "critical component" to the UK technology sector.
"It provides a unique collaboration between leading higher education institutions, global technology companies and investors, enabling our brightest graduates the necessary skills and training to innovate in technology and create new businesses".
Among those supporting the project financially are David and Heather Stevens, co-founders of the Cardiff-based Admiral insurance group.
Half the money will be used to run the scheme, with the other half supporting companies created by the students at the end of the process.
Newport-born Sir Terry Matthews, who has made his fortune from telecom and hi-tech companies, announced the project in March, after urging MPs to do more to keep talented graduates in Wales.
Speaking then, Sir Terry said: "We have an excellent talent pool in our Welsh graduates and this significant investment in the Alacrity Foundation gives the teams the entrepreneurial opportunity of a lifetime."
In 2010 he launched a similar programme aimed at young graduates in British Columbia, Canada.