UK government confirms Swansea coastguard closure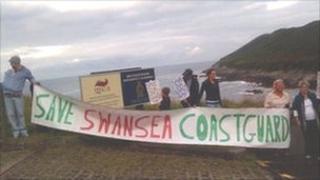 The UK government has confirmed the closure of Swansea coastguard station.
Transport Minister Mike Penning said the station at Mumbles, which employs 28, would close by March 2015.
Stations at Holyhead and Milford Haven, originally earmarked for closure, have been granted a reprieve.
First Minister Carwyn Jones said he was "dismayed" by a decision which would potentially put lives at risk, while campaigners said they would seek advice about a judicial review.
They said the closure will put lives at risk off the Swansea and Gower coastlines and in the Bristol Channel.
"We are extremely disappointed and we intend, if at all possible continuing with the campaign," said Tony Colbourn, chairman of the "Save Swansea Coastguard" campaign which collected 110,000 signatures.
'Ridiculous'
"It has been suggested that we might apply for a judicial review, and in fact we've put in hand already legal advice as to whether we can pursue that avenue or not.
"Time is on our side but we are extremely concerned on the safety aspect - this campaign was entirely based on the question of safety."
Mr Penning told MPs one reason Swansea was closing was because the Department for Transport already employs large numbers at the DVLA in the city.
But Mr Colbourn rejected this. He said: "That's a ridiculous argument.
"We are talking about safety. The station in Swansea was never intended to to be an exercise to employ people in the public sector."
First Minister Carwyn Jones added he was dismayed the UK government has ignored a major campaign against the proposed changes which "will put pressure on emergency services and potentially put lives at risk".
"One of the UK government's rationale for closing the Swansea coastguard station - Wales' busiest and the third busiest in the UK - is that the Department of Transport already employ large numbers of people in the city at the DVLA. This is unacceptable," said Mr Jones.
"DVLA staff are a completely separate issue and have no influence on safeguarding our coastline.
"It is clear the UK government has paid no regard to the safety of the many thousands of people who visit and use our coastline for business and pleasure."
Swansea East MP Sian James said: "This has clearly been an exercise that puts a need to balance the books before maritime safety
'Future tragedy'
"Compelling arguments by campaigners on operational necessities have been ignored.
"I hope and pray that the price to paid for this decision is not a future tragedy".
Wales Office Minister David Jones acknowledged the disappointment for Swansea but welcomed the reprieves for the stations at Holyhead and Milford Haven.
"I am pleased to see Milford Haven and Holyhead stations are to become part of a new nationally networked coastguard system," he said.
"This is part of proposals to re-structure the UK's existing coastline services.
"I understand the disappointment concerning the future of Swansea coastguard station, however, overall Wales retains two out of three of its coastguard stations, up from one under the previous administration's plans."
In August, about 200 people, including sailors, fishermen, surfers and beachgoers, took part in a "floating protest" against the government's plans, near the Swansea station in Mumbles.
Under the plans, the coastguard centres at Forth, Clyde, Great Yarmouth, Liverpool, Thames, Swansea, Brixham and Portland will close progressively by 31 March, 2015.
Mr Penning told MPs: "I understand, of course, that the closure of some existing co-ordination centres and the loss of some coastguard jobs will come as a disappointment to those directly affected.
"However, the decisions I have announced today will deliver the modernised, nationally networked, fully resilient coastguard service we require for the future while reducing costs."